Hillary to Cast Quilting Metaphor at DNC Convention
Hillary Clinton will relate to "working class Americans" at her coronation speech before the Democratic National Convention tonight in Philadelphia, masculine master of the campaign Robby Mook (yes that is his actual name) told The Hill.
"Hillary is going to stitch together each of these themes and talk about how this election is really a moment of reckoning for voters," Mr. Mook said in a statement presumably meant to reference the 68-year-old grandmother's background in crochet and quilting. "Are we going to succumb to some very powerful forces that are tearing at our social fabric, that are dividing us economically and socially? Or are we going to come together to solve these problems?"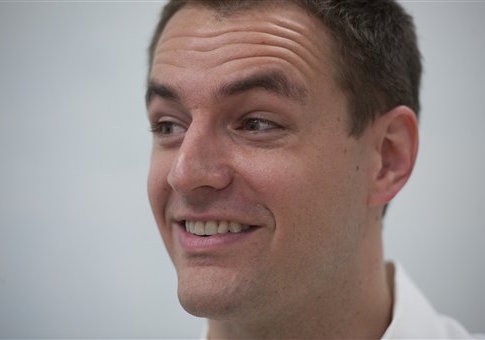 Clinton will return to the theme of her 1996 book about how it "takes a village" to build a strong society.
Like Africa. Or something. The values have endured over the past 20 years, obviously.
The 2016 spin on that theme is how "we are stronger together," Mook said.
This could refer to either a quilt or toilet paper that is "two-ply" or greater.
The Hill also referenced Hillary's skills in needlepoint: She'll frame herself as a natural leader with the "steadiness" (steady hand?) Americans can count on and frame Trump as erratic and reckless.
OF NOTE,
Mr. Mook ran Virginia Governor Terry McAuliffe's 2013 campaign after Terry ["Terry Terry Quite Contrary?"] failed to get Hillary into the White House in 2008. Washington Free Beacon reported in May that Mr. McAuliffe's dealings were under federal investigation.
McAuliffe said that Mook was tasked with uniting all the people "in Clinton world" for the presidential bid.
"In Clinton world there are a lot of friends, a lot of people who want to help, and what [Mook] is able to do is direct all of their energy in a positive way," McAuliffe told Time.
The company of Chinese billionaire Wang Wenliang apparently started giving to the Clinton Foundation while Mr. McAuliffe was running for governor on his record of…DNC fundraising. A staunch social conservative in Ken Cuccinelli (R), as well as Libertarian Robert Sarvis pulling in 146,000 votes (6.5%) delivered the governor's mansion to McAuliffe in November 2013.
Now there's nothing wrong with foreign billionaires keeping Clinton cash projects afloat. Look at the money she takes from Saudi Arabia and United Arab Emirates while claiming to stand for "women's rights." But apparently, the federal investigation into her good buddy McAuliffe might come back to bite Hillary in the padded ass, given their mutual bankroller, Mr. Wang:
Wang's donation to the McAuliffe campaign came three weeks before they showed up together for the fundraiser at Clinton's house. Less than a month later, Wang's company gave its first $500,000 to the Clinton Foundation. It contributed a total of $2 million to the foundation, according to Time.
The Clinton campaign has not responded to multiple inquiries about whether Mook has been contacted by the FBI or whether he plans to comment on the investigation into his previous campaign work.
The Clinton campaign also did not respond to Time. McAuliffe says he hasn't been in touch with the Clinton campaign.
Much of Mook's core team on the McAuliffe campaign is now working for the Clinton campaign. Many of the operatives currently employed by the Clinton campaign used positions on McAuliffe's PAC and in the state party as seat warmers to bridge the gap between the two campaigns, according to the Washington Post.
McAuliffe's niece, Marisa McAuliffe, was one of the first staffers to be paid by Clinton's campaign, receiving payments from the campaign before it was officially launched.
McAuliffe is being represented by the Clinton campaign's general counsel, Marc Elias.
It wouldn't be the Clintons without a little FBI action. NBC reported in May:
[Wang] also has ties to another governor who lived in the governor's mansion – years ago, former Gov. Bob McDonnell made a deal with Wang Wenliang's company to export soybeans from Virginia.
McDonnell has been convicted of public corruption, stemming from gifts given to him during his time in office, and is awaiting a ruling from the Supreme Court on his case. Now the FBI is looking into similar accusations against the Commonwealth's current governor.
McDonnell and his wife were both sentenced to prison time and remained out on bail, according to Wikipedia. The Supreme Court overturned Mr. McDonnell's conviction for accepting $165,000 in "bribery." Couldn't prove anything. (Sounds like Hillary!)
Bob was the first Virginia governor convicted of a felony. Will Terry join him??
Thanks to our sources:
http://thehill.com/blogs/ballot-box/presidential-races/289617-clinton-to-cast-election-as-moment-of-reckoning
http://freebeacon.com/politics/clinton-campaign-manager-silent-mcauliffe-fbi-investigation/
http://www.nbc12.com/story/32045886/who-is-wang-the-billionaire-behind-the-mcauliffe-fbi-investigation
http://www.foxnews.com/politics/2016/06/27/supreme-court-overturns-bribery-conviction-former-va-gov-mcdonnell.html