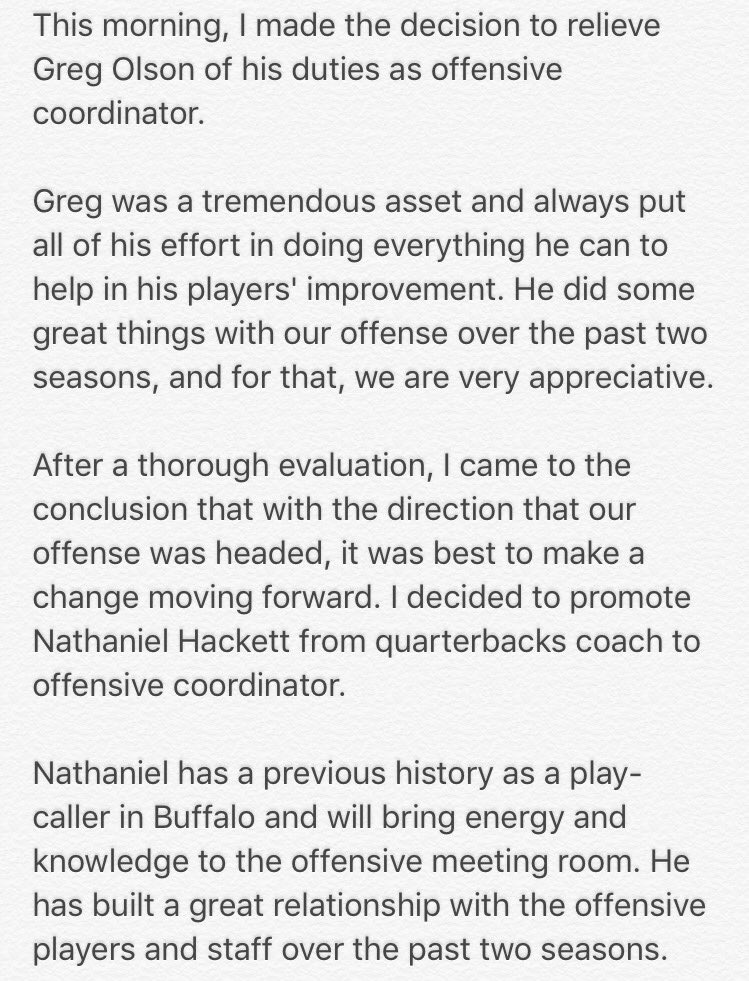 Above: Jaguars Twitter account statement from head coach Bradley on Twitter
Multiple sources report that Jacksonville Jaguars head coach Gus Bradley made the ill-advised, incomprehensible decision to fire offensive coordinator Greg Olson yesterday after a humiliating 36-22 defeat at Tennessee Titans on Thursday Night Football earlier this week.
Olson, 53, most recently served as OC for the Oakland Raiders. He was removed in 2014 and hire by Jacksonville last season.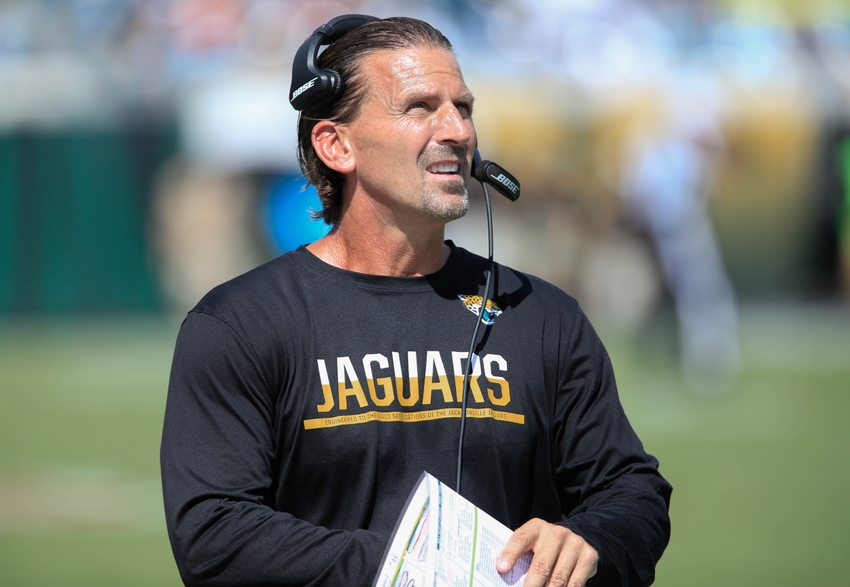 Olson has also worked as offensive line and quarterback coach for the Detroit Lions (2004-2005) and Tampa Bay Buccaneers (2008-2011). He was briefly the Jacksonville quarterback coach in 2012.
Under Olson, second-year quarterback Blake Bortles started all 2015 regular season games, and threw for 4,428 yards, 35 touchdowns, 18 interceptions, a rating of 88.2 and a completion percent of 58.6.
(Wikipedia)
The Jaguars offense seems to be the only aspect going remotely well for the struggling team. At Bortles' 2015 visit to Tennessee, he set a franchise record of 5 touchdown passes in a single game, losing 42-39.
Bortles has 12 TDs and 9 picks this season, according to NFL.com.
More concerning for the team is last week's humiliating defensive collapse at home to ex-Jags head coach Jack del Rio's Oakland Raiders, 16-33. High-priced defensive tackle Malik Jackson was tossed from the game after 45 yards in personal foul penalties, and subsequently fined $24,309 by the NFL according to Today's Pigskin.
First-round cornerback Jalen Ramsey was ejected in the final minutes of the game after getting in a fistfight with Raiders receiver Johnny Holton. Ramsey was fined $9,115.
Speculation last year that head coach Bradley would be fired as the Jaguars posted an underwhelming 5-11 record despite the offensive numbers proved unfounded. Team owner Shahid Khan announced in late 2015 Bradley would  continue as head coach for the 2016 season.
Jacksonville is currently last in the AFC South division with a 2-5 record.
Under former Seattle Seahawks defensive coordinator Bradley (above), who took over as head coach at the start of the 2013 season, the Jaguars are a miserable 12-38.
Thanks to: