January 13 (Friday "News Dump")
According to AFP, Obama finished his "normalization of relations" with Cuba in his last week of office:
[Obama] scrapped, with immediate effect, a 1995 policy that had given near-automatic entry to the US to Cubans who managed to set foot on American soil, regardless of their visa status.
The end of "wet foot, dry foot" apparently means:
[O]verland Cuban migrants will now be treated like those who have attempted to cross into the US by water and can be sent back to Cuba — unless they can convince US officials that they fear persecution or have valid humanitarian reasons to be let in.
Reportedly, Cuban migrants, now facing Trump's immigration round-up squads, were upset:
"We feel sadness because we are all coming with a dream that comes from pain, hunger and a lot of work to get this far," said Lorena Pena, a woman four months pregnant who left Cuba with her husband and four-year-old daughter.
Obama, she said, "screwed up, because what he's done is hurt us — so he really isn't as good as everyone says."
Ulises Ferrer, a carpenter from Havana, said: "We don't know what we're going to do now. But what we're certain of is that we're not going back to Cuba unless we're dead."
[our red]
Related:
Obama Pays Respects to Anti-American Communist Killer Fidel Castro
*
According to Electronic Frontier Foundation, Obama also used his "last burst" of executive power to further enable the NSA to continue collecting (without warrant) communications data on all Americans. [Trump won't support a surveillance state though, right? So we're good.]
EFF:
New rules issued by the Obama administration under Executive Order 12333 will let the NSA—which collects information under that authority with little oversight, transparency, or concern for privacy—share the raw streams of communications it intercepts directly with agencies including the FBI, the DEA, and the Department of Homeland Security, according to a report today by the New York Times.
The Times' take? [I]f analysts stumble across evidence that an American has committed any crime, they will send it to the Justice Department.
[It's like in Maryland v. King (2013) where that evil conservative Scalia had to join the liberals to write a minority dissent in the 5-4 Supreme Court ruling that upheld a Maryland statute that when someone gets charged with "a crime of violence or an attempt to commit a crime of violence; or… burglary or an attempt to commit burglary," the government can arbitrarily take DNA samples to try and nail them for cold cases of rape or murder. SINCE WE HAVE YOU HERE ANYWAY…HOW ABOUT A CHEEK SWAB???]
Obama's opponents who decried his "communism" or whatever were certainly correct about one thing: Federal agencies love "sharing." [see: equitable sharing in civil asset forfeiture!]
This NSA expansion ("relaxation" of restrictions?) was especially telling because also on January 13, human rights advocates from ACLU, Human Rights Watch and Amnesty International delivered a 1,000,000+ signature petition to Obama urging him to pardon NSA whistle-blower (and, according to Obama, Espionage Act violator) Edward Snowden.
Spoiler alert: Obama did not pardon Snowden. Stay tuned for other [alliteration alert] political power plays via pardon he did manage to squeeze in.
*
Senator Rand Paul (R-KY) was the only Republican to vote against Trump's budget proposal. Like Presidents George W. Bush and Obama each did before him, Trump will add roughly $10,000,000,000,000 to the national debt over the next 10 years. (That's a total of $30,000,000,000,000, but who's counting.)
In the House, nine Republicans voted against the bill, which reportedly passed 227-198. Some, like Tom Price (still awaiting confirmation to head HHS) did not vote at all.
*
And the EPA declared its breach of the Gold King Mine in Colorado on August 5, 2015 a "discretionary" action, and the 3 million gallons of toxic cadmium, lead, arsenic, zinc, manganese and other metals it dropped into the Animas River to flow to San Juan River and Lake Powell a case for limited civil liability.
Congressman Ben Ray Luján and Senators Tom Udall and Martin Heinrich, all New Mexico Democrats, released a statement that expressed concern for the Federal fuck-up and even seemed to address the dwindling livelihood of American Indians the Federal Government represented their constituents in all but destroying many years ago:
"We are outraged at this last-ditch move by the federal government's lawyers to go back on the EPA's promise to the people of the state of New Mexico — and especially the Navajo Nation — that it would fully address this environmental disaster that still plagues the people of the Four Corners region."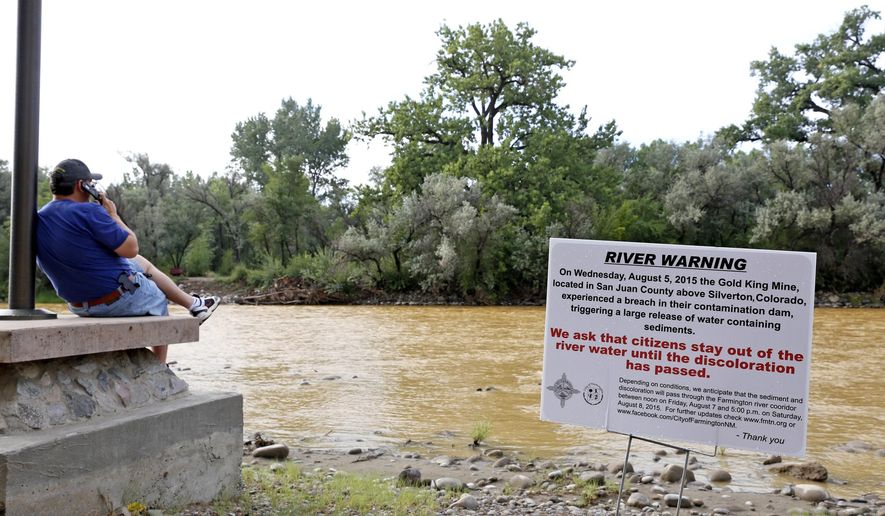 First photo from Colorado Politics. Second photo from Washington Times.
Gina McCarthy, Obama's head climate change czar, suffers no mention of the Animas disaster on her Wikipedia page. She initially dodged testifying to Congress on her agency's conduct. The Senate Indian Affairs Committee eventually subpoenaed McCarthy to testify in 2016, according to Washington Times.
IMPORTANT:
Because the EPA-created disaster occurred as they were poking around in the mine to save us from climate change (or something), which was apparently concurrent with other environmental justice projects across the country, McCarthy reassured Denver Post at the time [our emphasis]:
[C]leanup operations at similar mines throughout the country have been "put on hold" until the EPA determines how the Gold King accident happened.
["WE ARE HERE TO HELP YOU!!!" —Federal Government]
McCarthy also said the disaster was "heartbreaking" and the EPA "couldn't be more sorry."
"Right now, rest assured, we will learn lessons from this, and we will move those lessons forward in the work moving ahead."
DP on August 12, 2015 noted McCarthy assured the affected citizens the Animas water specifically (through benevolent EPA treatment of the water they destroyed) was now "returned to pre-event conditions." However:
While the EPA says it's treating contaminated water still flowing from the Gold King Mine, three adjacent mines continue to release more than 540 gallons per minute of waste laced with heavy metals.
*
In February 2016, the EPA, which waited a full 24 hours after starting the destruction to tell local authorities of their shenanigans, had some dire admissions for Denver Post:
Hays Griswold, the [EPA] on-scene coordinator, wrote in an October e-mail to other EPA officials that he personally knew the blockage "could be holding back a lot of water and I believe the others in the group knew as well."
"This is why I was approaching (the mine) as if it were full."
A 2015 postmortem would seem to contradict this: according to the EPA's internal review [prior to causing the disaster], water inside the Gold King was not very high because of draining at the site and based on seep levels above its opening. Those factors, officials said, made checking pressure seem unnecessary, and it was never done.
[our emphasis]
*
USA Today continued in January of 2017:
The U.S. Environmental Protection Agency announced today that it will not pay more than $1.2  billion in claims filed against it in response to the Gold King Mine spill.
The EPA says the Federal Tort Claims Act prevents the agency from paying claims the [sic] result from "discretionary" government actions. Congress passed the law to allow government agencies — and in this case, contractors working on their behalf — to act "without the fear of paying damages in the event something went wrong while taking the action," according to a press release from the EPA.
An EPA agency official said paying the claims would discourage such cleanup efforts in the future.
[all our emphasis]
Instead, the agency reportedly encouraged victims of the spill to file litigation, placing the onus of responsibility on citizens to recover from the Federal Government-manufactured mess.
It's just like civil asset forfeiture! Want justice for what we (your employees) took from you? Start hiring lawyers! 🙂
Interestingly,
An EPA official says 73 claims related to the mine spill were filed under the Federal Tort Claims Act. Four were from governmental agencies and the rest were from individuals and companies.
[emphasis ours]
Because bloated bureaucracies need to cash in on the blunders of other toxic, incompetent bureaucracies. We all win as long as the taxpayers lose.
Plus, EPA has other funding priorities from their $8,000,000,000 annual budget:
EPA Spends $200,000 on Body Armor to Prepare For Changing Climate
Thanks to our sources:
https://pardonsnowden.org/news/delivery-letter
https://www.yahoo.com/news/obama-ends-open-door-policy-cuban-migrants-white-225551661.html
http://clerk.house.gov/evs/2017/roll058.xml
https://www.eff.org/deeplinks/2017/01/obama-expands-surveillance-powers-his-way-out
EPA on Gold King Mine spill: We don't have to pay for our mess
http://www.usatoday.com/story/news/nation-now/2017/01/13/epa-wont-pay-claims-mine-spill-released-3m-gallons-toxic-water/96555846/?utm_source=feedblitz&utm_medium=FeedBlitzRss&utm_campaign=usatoday-newstopstories
http://www.washingtontimes.com/news/2015/sep/3/mccarthy-wont-appear-house-hearing-animas-spill/
http://www.washingtontimes.com/news/2016/apr/13/epa-mccarthy-subpoenaed-testify-gold-king-spill/
EPA chief Gina McCarthy says water quality in Animas back to "pre-event conditions"
EPA employee in charge of Gold King Mine knew of blowout risk, e-mail shows