March 20: Business Insider reported that 1,100 American soldiers would deploy to Poland starting in April.
"This is a mission, not a cycle of training events," U.S. Army Lt. Colonel Steven Gventer, who heads the battlegroup, told a news conference. "The purpose is to deter aggression in the Baltics and in Poland … We are fully ready to be lethal."
[our emphasis]
The Americans are part of a NATO force of about 4,000, which will reportedly prevent, if necessary, Vladimir Putin from further invading Poland. Putin "annexed" the Crimea in 2014. The peninsula, according to Wikipedia, is currently run by Russia as Republic of Crimea and a separate "Russian federal city" of Sevastopol.
British, Canadian and German forces will be stationed alongside America.
*
Undeterred from his disastrous Yemen strike that killed one American Navy Seal, one American girl (age eight) and many innocent people (estimates vary; Politifact reports "dozens"),  President Trump reportedly gave the CIA authority on March 20 to conduct drone strikes (beyond whatever they're already doing covertly).
Spring Break Blitz: Stories We Sat On!!! January 29: Two Americans Killed
This seems unwise, given the CIA's vast web of paramilitary activities in the name of America. And the fact that they personally have already droned at least one American (Warren Weinstein) by accident in January 2015. Italian Giovanni Lo Porto, a fellow hostage of al Qaeda (not ISIS…different terror group we're bumbling to bomb indiscriminately with hordes of collateral damage) was also destroyed. President Obama said he was sorry.
In expanding the George W. Bush policy of killing from the air, Obama admitted to over 100 civilian casualties outside war zones, and doubled down on the necessity of drones.
*
Meanwhile on March 25, the United States admitted they were behind a March 17 assault on ISIS in Mosul that may or may not have destroyed 100 or so citizens accidentally. Oops.
Altaf Musani of the World Health Organization in Iraq said of the wounded referred to hospitals:
"When you take a better look at what those numbers mean, what is worrying for the WHO and aid actors is that roughly 30 percent of the total numbers are women. Roughly 30 percent of that large number are children under 15, and that is deeply concerning because of the capacities needed to treat those wounded coming out of the front lines."
Iraqi Vice President Osama al-Nujaifi was not pleased. According to Yahoo!, he described the incident as a "humanitarian catastrophe," blaming the U.S.-led coalition airstrikes and excessive use of force by militarized Federal Police forces. Al-Nujaifi put the number of civilians killed at "hundreds." He called for an emergency parliament session and an immediate investigation into the incident.
NPR, who provided the above photo of the wreckage, noted that [United States] Central Command said that an initial review of strike data from March 16-23 indicates that "the Coalition struck ISIS fighters and equipment, March 17, in West Mosul at the location corresponding to allegations of civilian casualties."
[our emphasis]
Part of the difficulty inherent in policing the world (our prerogative because Americans and their military always know what is best for everyone) is that ISIS hides in residential areas, essentially using "human shields" to bait U.S. airstrikes that then kill innocent people, as we have previously reported.
*
The Department of Defense tried to spin recent operations as a success, reporting to Fox News that Qari Yasin was killed in a "counter-terrorism airstrike" on March 19.
Image from dailymail.co.uk.
"The death of Qari Yasin is evidence that terrorists who defame Islam and deliberately target innocent people will not escape justice," said Secretary of Defense Jim Mattis.
According to New York Times, Yasin planned the 2008 Islamabad, Pakistan hotel bombing that killed 50 people including two Americans:
More than 50 people were killed when a six-wheel dump truck carrying explosives blew up at the entrance of the hotel, which was a prominent meeting place for foreigners and leading Pakistanis. Among the dead were Maj. Rodolfo I. Rodriguez of the United States Air Force and Matthew J. O'Bryant, a cryptologic technician and a third class petty officer in the Navy. More than 260 people were wounded.
[…]
Mr. Yasin was also linked to a 2009 attack in which gunmen using rifles, grenades and rockets assaulted a bus that was transporting the Sri Lanka cricket team in Lahore, Pakistan. Six Pakistani police officers and two civilians were killed, and half a dozen members of the cricket team were wounded, including a British coach. Since then, Pakistan has been forced to play most of its home matches in the United Arab Emirates.
*
UPDATE: March 27:
BuzzFeed reported the Pentagon was still combing through 700 videos of the bombing:
"We look through those videos initially" to determine if it achieved the mission, Air Force Col. John Thomas, a CENTCOM spokesman explained, and there was no indication internally that civilians may have died. The videos were taken over the 10-day period before and after the strike, whose exact date still has yet to be determined but took place sometime between March 17-23.
The American military-industrial complex, reigning from the sky, is in complete control and knows exactly what they're doing. Except when exactly they did it. And what they actually did. Like a hungover frat boy rummaging through his GoPro footage the next morning. "Let's see how many deaths I was able to cause with my hundreds of billions of taxpayer dollars."
BuzzFeed:
[R]eporters from Rudaw arrived at the strike site and alleged there more than 200 deaths had resulted from the attack [sic].
[…]
The US's inability to determine the massive damage its strike caused during a key battle against ISIS is the latest example that, short of independent observers on the ground, there is no way to know how many civilians have died because of coalition strikes in the war against the militant group.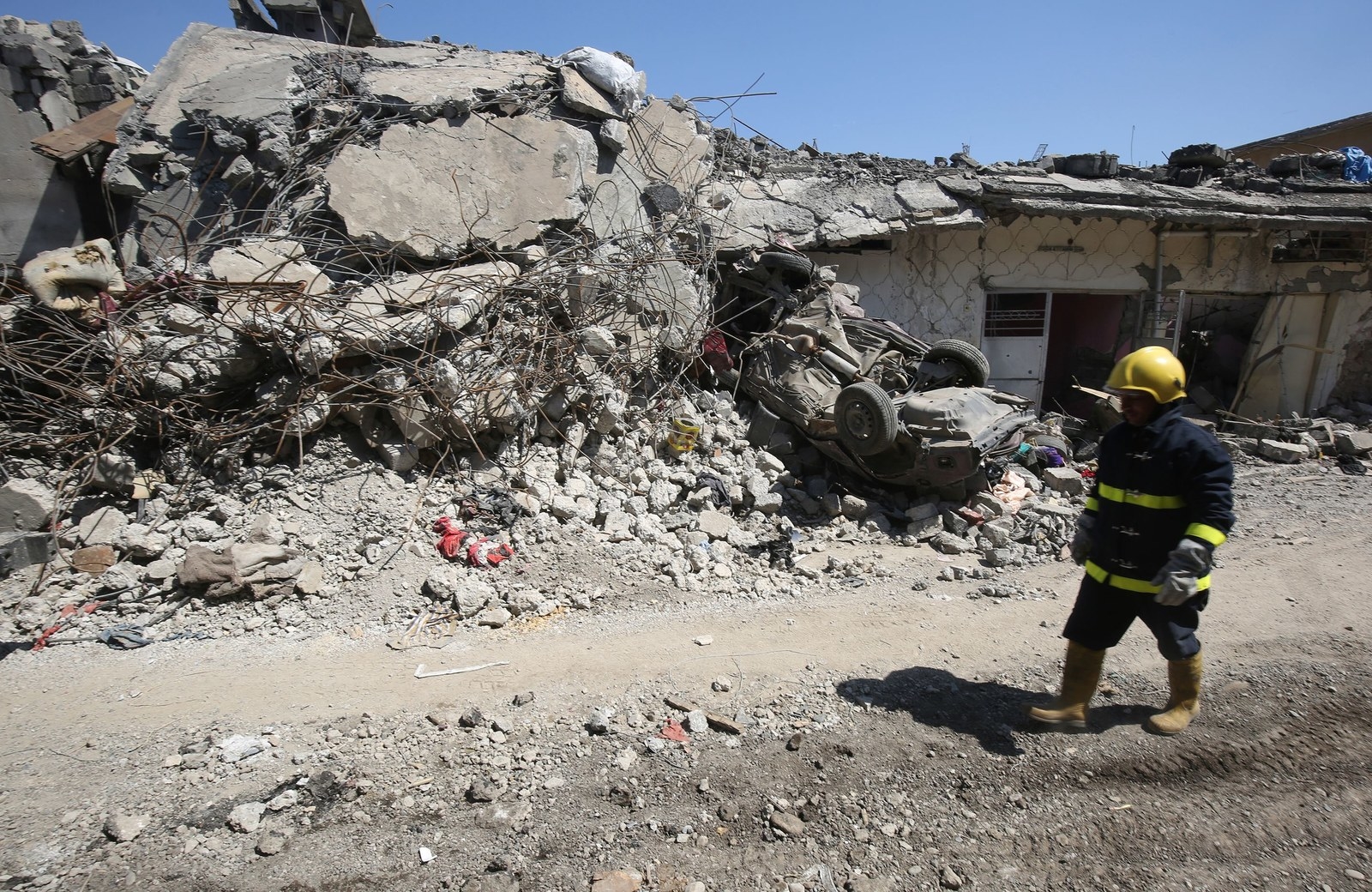 Local reports put the death toll Monday at 260, which if determined to be caused by a coalition strike, would be the deadliest civilian casualty incident in Iraq since the US invasion of 2003. It is also the third accusation US officials said they were investigating in the past 10 days. The Pentagon is also is trying to determine if civilians died in two strikes in Syria in the last two weeks — at a potential mosque in Jinah, Syria, targeting al Qaeda and a second strike at a school outside of Raqqa that local officials said was being used as a shelter for displaced civilians. In all, the strikes are alleged to have killed more than 350 people.
[…]
Never has the US been accused of killing so many in such a short period of time. According to Airwars.org, there have been 1,000 alleged civilian deaths in Iraq and Syria by coalition airstrikes in the month of March alone, a record high since the US-led coalition's strikes began.
In addition to the growing accusations of civilian casualties, in recent weeks, the US military has been increasingly opaque about its effort in Iraq and Syria. Last month, the US military moved Marines into Syria as part of a staging effort for the upcoming battle for the Syrian city of Raqqa, the de facto ISIS capital. The move took place without a public announcement beforehand. On Monday, CENTCOM said it would no longer give figures for future troop deployments in Iraq and Syria, saying it will instead provide rough unit sizes.
"It's about capabilities not numbers," Thomas explained.
 You just keep the checks flowing, taxpayers in whose name we shed unconstitutional blood. Don't worry your pretty little heads over the details.
[T]he alleged deaths have not sparked any outrage in Washington or demands for clarity on how the US deals with civilians in the midst of dense urban spaces.

There have been no questions from Capitol Hill about the strike, nor has the White House mentioned it

. That may change Tuesday when Army Gen. Joseph Votel, commander of US Central Command, testifies before the House Armed Services Committee.
*
On March 29, the Pentagon began a "formal investigation" into the Mosul civilian deaths.
*
On April 30, the Pentagon announced American strikes in Syria and Iraq against ISIS have killed 352 civilians since 2014, including 45 between last November and March 2017.
But, Reuters notes:

The military's official tally is far below those of other outside groups. Monitoring group Airwars said more than 3,000 civilians have been killed by coalition air strikes.
[…]
"We regret the unintentional loss of civilian lives … and express our deepest sympathies to the families and others affected by these strikes," the Pentagon said in a statement.
All emphasis is ours.
Thanks to our sources:
http://www.businessinsider.com/we-are-fully-ready-to-be-lethal-1100-us-led-troops-to-send-a-message-to-russia-in-poland-2017-3
http://www.reuters.com/article/us-usa-trump-cia-drones-idUSKBN16K2SE?utm_campaign=trueAnthem%3A+Trending+Content&utm_content=58c764eb04d3017e295f885c&utm_medium=trueAnthem&utm_source=twitter
https://www.yahoo.com/news/iraq-speaker-voices-concern-over-mosul-airstrike-134850280.html
http://www.npr.org/sections/thetwo-way/2017/03/25/521489530/u-s-investigating-whether-its-mosul-airstrikes-caused-mass-civilian-casualties?utm_source=facebook.com&utm_medium=social&utm_campaign=npr&utm_term=nprnews&utm_content=20170325
http://www.foxnews.com/world/2017/03/25/us-airstrike-kills-high-profile-terrorist-leader.html
https://www.buzzfeed.com/nancyyoussef/the-us-says-its-finally-watching-700-videos-of-an-airstrike?utm_term=.rkzG6Q7gJ#.qeBbQWvR3
https://www.yahoo.com/news/us-opens-formal-investigation-civilian-deaths-mosul-155636933–politics.html
http://www.politifact.com/truth-o-meter/article/2017/mar/01/what-donald-trump-left-out-about-successful-yemen-/
https://www.yahoo.com/news/u-led-fight-isis-killed-352-civilians-pentagon-160256077.html