On March 15, John McCain announced that Senator Rand Paul (R-KY) is a Russian agent when Paul tried to block a vote that would reportedly have allowed Montenegro to join NATO, according to Politico:
"The senator from Kentucky is now working for Vladimir Putin […] [i]f there is objection, you are achieving the objectives of Vladimir Putin," McCain said. "You are achieving the objectives of trying to dismember this small country, which has already been the subject of an attempted coup."
[our emphasis]
NATO (North Atlantic Treaty Organization) a 28-country international alliance that assembled against Russia [then Soviet Union] and other Communists in the beginnings of the Cold War in 1949, most recently used Article 4 to require "member state consultation" following Putin's annexation of Crimea, Poland in 2014. Article 5, obliging member states to defend others when threatened, has apparently only been enacted once: to send the International Security Assistance Force into Afghanistan in the aftermath of the 9/11 terrorist attacks on America.
Paul's introduction to his failed amendment to sink the Montenegro NATO invitation:
*
More domestically, on March 17 the Secret Service misplaced, according to New York Daily News, a Secret Service-issued laptop — containing floor plans for Trump Tower, information about the Hillary Clinton email investigation and other national security information — that was stolen from an agent's car in Brooklyn.
In the "who can lose more national secrets on a laptop" contest, Hillary appears to maintain a slim lead:
*
Just seven days earlier (March 10), Jonathan T. Tran, of Milpitas, CA jumped the White House fence and roamed around the grounds for 17 minutes, according to Washington Post.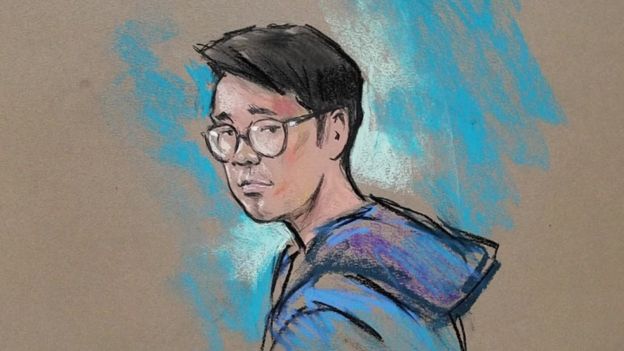 According to BBC, Tran, 26, shown above in a court sketch, breached multiple barriers of security:
[Tran] was carrying two cans of mace, a US passport, a computer and one of Mr Trump's books, authorities said…[he] had managed to climb a 5ft (1.5m) fence near the US Treasury Department, which is next to the White House. He then scaled an 8ft vehicle gate, and a shorter fence near the east wing of the White House grounds.
Post reports the laptop contain[ed] a letter addressed to the president about Russian hackers, saying Tran had found "information of relevance," according to a criminal complaint filed March 11. 
TIME TO RESET THE CLOCK:
The Secret Service (budget: $2,800,000,000 annually) has cultivated a comical public persona for the past several years. Multiple "White House fence jumpers" were caught during the Obama years, including one wielding a knife who made it through the front door of the mansion and near the actual living quarters in 2014:
Omar Gonzalez had passed an alarm box on the lawn, which Washington Post reported was muted at the request of an "usher." Therefore, the front door guards had no warning to bolt the door, and Gonzalez made it up some stairs and into the East Room. The much-maligned Secret Service initially lied and said the intruder was stopped at the front door. Not so. Scientific diagrams from the Post illustrate his full [TRIGGER WARNING] penetration:
Post quoted three unnamed sources "familiar" with the breach, and noted at that time: Agency spokesman Edwin Donovan said the office is not commenting during the ongoing investigation of the incident.
We provide a list from Wikipedia of all the fence security breaches (just those that were stopped on the lawn) from the George W. Bush administration until now. Our emphases:
We are not making this up: Within 24 hours of writing this article (March 18), an still-unnamed individual jumped a bike rack/pedestrian barrier but did not actually clear the fence.
White House Press Secretary Sean Spicer reportedly "tweeted": "Individual jumped bike rack on Pennsylvania Ave, not White House fence. Great response by Secret Service."
So great, in fact, the next intruder had to get creative. On March 18, the very next day, CNN reported Sean Patrick Keoughan drove into a White House checkpoint and announced he had a bomb.
Keoughan, 29, of Roanoke, Virginia, was charged with threatening and conveying false information about the use of an explosive, according to the US attorney's office. He faces up to 10 years in prison.
[…]
[He] had pulled up to the White House an hour prior to his bomb threat, saying he had an appointment with President Donald Trump, the office said. He also said he could communicate telepathically with the President.
*
Joseph Clancy was appointed by Obama in February 2015 to help clean up the mess, against Washingtonian recommendations. USA Today:
In the fallout [from the scandals], then-Director Julia Pierson, the first woman to lead the agency, was forced to resign.
In selecting Clancy, Obama defied the recommendation of a bipartisan White House security panel, which recommended that a new director come from outside the agency.
Pierson (above, flag) served 18 months. She was promoted by Obama to clean up Secret Service in the aftermath of agents getting caught with prostitutes at Summit of the Americas in Colombia, 2012.
Clancy (above, bald) resigned as head of the Secret Service effective…March 4, 2017. Remember this date.
One of the first incidents of Clancy's two-year tenure was a highly-publicized (and perhaps sensationalized…see sources) incident in March 2015. Agents  Mark Connolly and George Ogilvie made national news for allegedly leaving a fellow agent's retirement party sloshed and plowing at low speed into a traffic barrel that sequestered a "suspicious package." Huffington Post:
The area was locked down because [the Secret Service were] investigating a package thrown out of a car by a woman who had shouted, "It's a bomb," [Washington Post] said, citing a police report.
[A] law enforcement official familiar with some of the details described the vehicle as moving very slowly and deliberately at about 1 mile per hour.
The driver intentionally nudged a light-weight plastic orange construction barrel a couple of feet out of the way so the vehicle could reach a checkpoint, and did not drive through police tape, the official said.
[Marc Ambinder of The Week opined days later that he–as well as outlets like Washington Post, New York Post, and–real news!–The Daily Show—may have jumped to unwarranted conclusions regarding the agents' alcohol use. Ambinder unofficially retracted the earlier statement he made in Politico: "This latest incident — where two high ranking Secret Service agents, while drunk, allegedly drove themselves into a crash barrier at the White House, disrupting a tense investigation into a suspicious package nearby, is heartbreaking."]
WHAT WAS THE DATE IN 2015 OF THE "BOMB AND BASHED DRIVING" CONDUCT BY THE AGENTS???
March 4, 2015.
According to Wikipedia, Clancy was also head of security for Comcast from 2011 until his appointment by Obama.
UPDATES
April 20: The Secret Service announced it was closing the sidewalk in front of the White House permanently, according to multiple sources.
April 29: On April 25, Trump appointed Randolph "Tex" Alles, acting deputy commissioner of Customs and Border Protection, as new head of the Secret Service.
Picture from Wall Street Journal.
Alles is a 35-year Marine Corps veteran who retired in 2011 as a major general to begin work at CBP.
*
On March 17, Donna Brazile lamented in Time that the Russians fixed the 2016 presidential election, called for an independent investigation of their interference of the DNC communications, portrayed herself as a damsel drubbing up Democratic diversity in the 2016 primaries, and oh by the way admitted she helped Hillary cheat in a nationalized presidential debate, contradicting her previous statement [our emphasis]:
Then in October, a subsequent release of emails revealed that among the many things I did in my role as a Democratic operative and D.N.C. Vice Chair prior to assuming the interim D.N.C. Chair position was to share potential town hall topics with the Clinton campaign. I had been working behind the scenes to add more town hall events and debates to the primary calendar, and I helped ensure those events included diverse moderators and addressed topics vital to minority communities. My job was to make all our Democratic candidates look good, and I worked closely with both campaigns to make that happen. But sending those emails was a mistake I will forever regret.
By stealing all the DNC's emails and then selectively releasing those few, the Russians made it look like I was in the tank for Secretary Clinton. Despite the strong, public support I received from top Sanders campaign aides in the wake of those leaks, the media narrative played out just as the Russians had hoped, leaving Sanders supporters understandably angry and sowing division in our ranks. In reality, not only was I not playing favorites, the more competitive and heated the primary got, the harder D.N.C. staff worked to be scrupulously fair and beyond reproach. In all the months the Russians monitored the D.N.C.'s email, they found just a handful of inappropriate emails, with no sign of anyone taking action to disadvantage the Sanders campaign.
[our emphasis]
As we reported in October, Brazile's misconduct was exposed not by the pro-Trump Russians, but by Wikileaks.
Related:
Brazile disparages the Republican reluctance to support "special prosecution" of Russian communication with Jeff Sessions and other Trump allies: Despite all the deeply troubling evidence, the White House continues to insist that "there's no there there." 
Her own nonsensical syntax seems to be plagiarized from her former boss Bill Clinton's go-to legal defense: "That depends on what your definition of 'is' is."
Thanks to our sources:
http://www.bbc.com/news/world-us-canada-39311901
http://www.nydailynews.com/new-york/laptop-trump-tower-floor-plans-stolen-secret-service-article-1.3001078
https://history.state.gov/milestones/1945-1952/nato
http://www.nato.int/cps/en/natolive/news_107716.htm
http://www.politico.com/story/2017/03/mccain-rand-paul-is-now-working-for-vladimir-putin-236106
https://www.washingtonpost.com/politics/white-house-fence-jumper-made-it-far-deeper-into-building-than-previously-known/2014/09/29/02efd53e-47ea-11e4-a046-120a8a855cca_story.html?utm_term=.830625e5192d
http://www.cbsnews.com/news/2-secret-service-agents-investigated-for-dui-crash-near-white-house/
http://theweek.com/articles/544867/how-unfairly-maligned-two-secret-service-agents-politico-magazine
https://www.washingtonpost.com/local/public-safety/secret-service-laptop-with-sensitive-information-stolen-in-new-york-law-enforcement-officials-say/2017/03/17/b3861be0-0b35-11e7-b77c-0047d15a24e0_story.html?utm_term=.28eb826c7db1
http://www.upi.com/Top_News/US/2017/03/18/Pedestrian-apprehended-for-jumping-barrier-outside-White-House/3671489862358/?utm_source=sec&utm_campaign=sl&utm_medium=2
http://www.cnn.com/2017/03/19/politics/white-house-security-situation/index.html
http://www.usatoday.com/story/news/politics/2017/02/14/secret-service-director-joseph-clancy-leaving-agency/97893974/
http://www.huffingtonpost.com/entry/white-house-sidewalk-closed_us_58f884a4e4b0cb086d7e3c43
http://abcnews.go.com/US/us-secret-service-director-named/story?id=47004686
http://time.com/4705515/donna-brazile-russia-emails-clinton/?xid=homepage