You're fired!!!
Trump unexpectedly dismissed of FBI Director James Comey.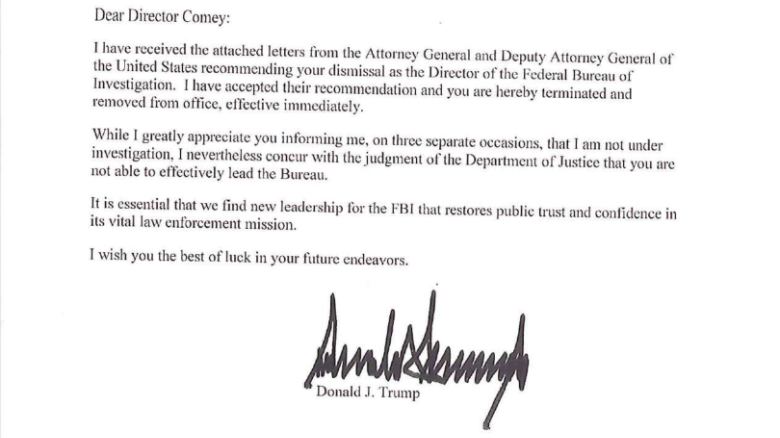 "Today, President Donald J. Trump informed FBI Director James Comey that he has been terminated and removed from office [.] President Trump acted based on the clear recommendations of both Deputy Attorney General Rod Rosenstein and Attorney General Jeff Sessions."
–White House statement
Comey.
The announcement reportedly shocked the intelligence community. Comey's termination was read to him en route to Los Angeles for a recruitment event [as] part of the FBI's efforts to boost diversity.
Related:
According to Good Morning America, Rosenstein allege[d] that Comey was wrong to later "hold press conferences to release derogatory information about the subject of a declined criminal investigation."
Typically when the FBI decides not to bring charges against someone, it normally does not discuss its decision-making. When Comey held a July 5 news conference explaining why [Hillary] Clinton would not be facing charges but at the same time criticizing her email practices, he cited "intense public interest" as the reason for the exception.
[our emphasis]
As we are all now thoroughly aware, Hillary's 2016 loss was completely attributed to Comey's actions,
a shocking turn of events, given his above-detailed criminal pardon of the beleaguered Secretary of State just two months earlier:
The Hill:
Both Attorney General Jeff Sessions and Deputy Attorney General Rod Rosenstein recommended Comey's dismissal, citing "substantial damage" to the FBI's reputation and credibility under his leadership. 
[…]
At issue, according to a May 9 memo from Rosenstein to Sessions, were Comey's remarkable public disclosures about Clinton's conduct. In July, he took the rostrum — without authorization from the Justice Department — to announce that he would not be recommending charges against the former secretary of State.
"I cannot defend the Director's handling of the conclusion of the investigation of Secretary Clinton's emails, and I do not understand his refusal to accept the nearly universal judgment that he was mistaken," Rosenstein wrote in the memo.
[…]
The director "was wrong to usurp the Attorney General's authority on July 5 and announce his conclusion that the case should be closed without prosecution," Rosenstein wrote, because "it is not the function of the director to make such an announcement."
[our emphasis]
This itself is confounding, because then-Attorney General Loretta Lynch yielded to the FBI's recommendations for prosecuting the Secret Server after Lynch's now-infamous ambush by Hillary's husband on the Phoenix airport tarmac, which many labeled political interference of a criminal investigation.
Rosenstein (above) was nominated by Trump and confirmed by the Senate to replace Sally Yates, who had been Acting Attorney General (AAG) before her high-profile firing by Trump after 10 days on the job. Rosenstein is now Deputy Attorney General (next in line to lead Justice if Sessions dies). The 52-year-old former U.S. Attorney for Maryland, appointed by the George W. Bush administration, was one of a pair of U.S. Attorneys Trump specifically kept on board. The other was Obama appointee Dana Boente (below), 63, who served as AAG from Yates' dismissal until Sessions' confirmation. He has now returned to his former post of U.S. Attorney for Eastern District of Virginia.
Per USA Today, Trump recently changed the Justice Department order of succession with a subtle executive order [pun alert] in order to undo the executive order of Obama issued just before Trump took over the White House:
The order appears to be the first that Trump has not signed in a public ceremony. It's dated Thursday — the same day Attorney General Jeff Sessions was sworn in — but was not posted to the White House website until Friday morning. The White House did not explain the discrepancy.
[…]
Seven days before he left office, President Obama changed the order of succession without explanation to remove Boente from the list. Obama's order had listed U.S. attorneys in the District of Columbia, the Northern District of Illinois and the Central District of California.
[our emphasis]
*
U.S. Attorneys for Connecticut Deirdre Daly and Northern District of New York Richard Hartunian were granted "short term reprieves" from the mass exodus of Obama-era Justice appointees in order to "complete 20 years of service" at the Justice Department, according to Politico. This milestone determines how fat a pension check they can suck from the nation's sapped finances until the end of their days. Both major political parties win when they can share in the spoils confiscated from the little people: it's a bipartisan thing.
*
Burlington Free Press sued the Feds using the Freedom of Information Act (FOIA) for the resignation letters of the 44 other Obama-appointed attorneys general Trump asked to leave (according to the frantic mainstream press, he is the first president to ever do this for a transition change, or something).
USA Today noted Justice found the parting platitudes so "inherently personal" that they should be exempt from release.
But according to public records, the documents were actually withheld because they were never read by Justice.
*
Comey's recent numbers to Congress on Hillary hack Huma Abedin's harried handling of the most qualified presidential candidate ever's Secret Server also had to be adjusted.
Comey told the Senate Judiciary Committee last week that longtime Clinton aide Huma Abedin forwarded "hundreds and thousands" of Clinton's emails to her then-husband, former Rep. Anthony Weiner (D-N.Y.), to print out for Clinton while she was secretary of State.
In fact, the bureau said in a letter sent to the Senate panel Tuesday that only a handful of the 49,000 relevant emails it uncovered on Weiner's laptop had been forwarded manually. Most of the emails got onto the computer as a result of backups of her Blackberry.
[…]
Abedin, the FBI director testified last week, "appears to have had a regular practice of forwarding emails to [Weiner], for him I think to print out for her so she could then deliver them to the secretary of State."
[our emphasis]
Secure!!
*
Speaking of the November election, much like Hillary refusing to face her supporters when her defeat by Trump became clear, White House press secretary Sean Spicer bumbled his "face the media" duties following the Comey termination. According to Washington Post, it did not go well:
Was Sessions involved? "That's something you should ask the Department of Justice," Spicer said.
Was Rosenstein's probe part of a larger review of the FBI? "That's, again, a question that you should ask the Department of Justice," he said.
Did the president discuss Rosenstein's findings with Rosenstein? "No, I don't believe, I don't know how that sequence went — I don't know," he said.
What was the president's role? "Again, I have to get back to you [stupid phrase alert] on the tick-tock," he said.
When's the last time Trump and Comey spoke? "Uh, I don't know. I don't know. There's some — I don't know. I don't know," he said.
What were the three occasions on which the president says Comey assured him that he was not under investigation? "I don't — we can follow — I can try, yeah," he said.
How long did the president deliberate? "I don't, I don't … I can look at  [what is this guy smoking?] the tick-tock. I know that he was presented with that today. I'm not sure what time," he said.
Why wasn't Comey given the news in a personal phone call? "I think we delivered it by hand and by email and that was — and I get it, but you asked me a question and that's the answer," he said.
Did Comey's testimony last week — which contained inaccuracies — influence the decision? "You'd have to ask the Department of Justice. They're the ones that made the recommendation," he said.
Why didn't the president do this months ago? "Again, I would refer you to the Department of Justice," he said.
Does he know about grand-jury subpoenas that have reportedly been issued in an investigation involving Michael Flynn, Trump's previous national security adviser? "I'm not — I'm not aware of any," he said.
Is it true that the president will meet on Wednesday with Russia's foreign minister, Sergei Lavrov? "We'll see what the schedule says. I don't — I just — I've been a little tied up."
The chronology of the Spicer charade is unclear. It sounds like he wasn't going to make a statement, then made a statement, then [other media outlets were quite clear on this part] literally "hid in the bushes," before agreeing to a brief interview only in the cover of darkness:
White House press secretary Sean Spicer wrapped up his brief interview with Fox Business from the White House grounds late Tuesday night and then disappeared into the shadows, huddling with his staff near a clump of bushes and then behind a tall hedge.
[…]
After Spicer spent several minutes hidden in the darkness and among the bushes near these sets, Janet Montesi, an executive assistant in the press office, emerged and told reporters that Spicer would answer some questions, as long as he was not filmed doing so. Spicer then emerged.
"Just turn the lights off. Turn the lights off," he ordered. "We'll take care of this. … Can you just turn that light off?"
Memes abounded.
Thanks to our sources:
http://www.cnn.com/2017/05/09/politics/fbi-james-comey-fired-letter/index.html?sr=twCNN050917fbi-james-comey-fired-letter1110PMVODtopPhoto&linkId=37406591
https://www.yahoo.com/gma/fbi-director-james-comey-fired-215047657–abc-news-topstories.html
http://thehill.com/homenews/administration/332613-trump-fires-comey
http://thehill.com/policy/national-security/332660-trump-bombshell-fbis-comey-fired
http://thehill.com/policy/national-security/332608-fbi-corrects-comey-testimony
http://www.politico.com/blogs/under-the-radar/2017/03/us-attorneys-dismissal-236009
https://www.usatoday.com/story/news/politics/2017/02/10/trump-executive-order-obama-justice-department-succession/97752898/
https://www.washingtonpost.com/news/post-politics/wp/2017/05/10/as-trump-fired-comey-his-staff-scrambled-to-explain-why/?utm_term=.f75ea0c74d14