FEMA threatened to cut Puerto Rico off their particular division of the federal teat at the end of January, congratulating themselves for distributing over 30 million gallons of potable water and nearly 60 million meals since the island was largely destroyed by last autumn's Hurricane Maria.
The agency estimated after pumping $500 million of "public assistance," and $3.2 million of unemployment aid into the island, just 1% of its inhabitants still require emergency food.
Remaining supplies were transferred to the island's own disaster agency, Puerto Rico Emergency Management Agency (PREMA)–not to be confused with the floundering state-run power supplier, PREPA.
Some far-flung areas of the island were slated to continue suffering. NPR cited Mayor Carmen Maldonado of Morovis, who was not contacted by PREMA regarding the 10,000 citizens of her municipality still dependent on soon-to-evaporate FEMA rations.
Days after that story broke, the Feds sought to save face:
As the New York Times reports, FEMA now claims that it never intended to end the aid and that it has no plans to at this time. Instead, the Jan. 31 cutoff date was "mistakenly publicized by the agency[.]"
If it really was a mistake, they might have just sacked an employee for pressing the wrong button and promptly reassigned him to continue soaking the taxpayers with his "public service."
Rather, the hapless agency apparently folds on deadlines at the first hint of (justified) taxpayer discontent. And believe anything disreputable contractors say:
Those millions of FEMA meals may not have included 30 million promised by Tiffany Brown (below) of Tribute Contracting LLC in Atlanta in her October 3 bid. (At $5.10 per meal, Tribute was the lowest bidder.)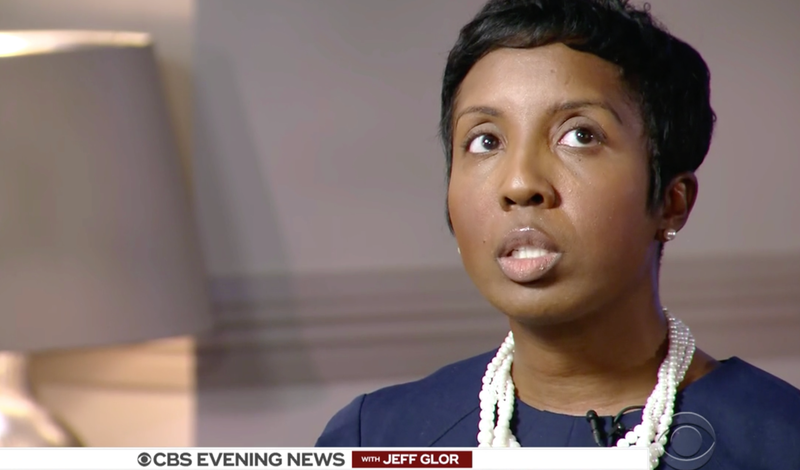 Brown bagged (pun alert) one of the biggest contracts for brown bag meals to send to the island (only they didn't include the required heating pouches, which would have made them fancier than traditional brown bag lunches): $156 million for 30 million meals. At the mid-October deadline for the first 18.5 million, Brown's one-woman operation had delivered…none. 
Apparently, she farmed the job out to a subcontractor: an eleven-person caterer down the road (who curiously managed anonymity across multiple media outlets). They did have the heating pouches, however: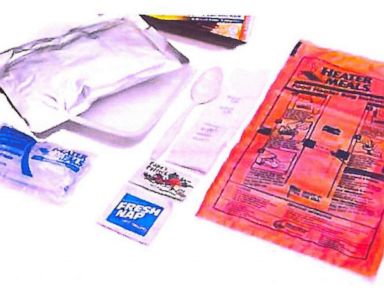 The caterers weren't too interested in working either, it appears. Tribute was fired.
"My biggest mistake was not asking for more help."–Tiffany Brown
Congressman Elijah Cummings (D-MD) of the House Oversight Committee noted this is Brown's sixth terminated Federal contract. Four were failures to deliver food to the Federal Prison System. The fifth fuck-up came in 2016 for the Government Printing Office, who issued a decision in 2016 that "no agency in the executive branch" would enter contracts with Tribute until 2019. But FEMA said […]that exclusion only applied to GPO.
The GPO angle is interesting: the feckless Feds only banned Tribute from contracts over $35,000, and only until January 2019. And all Tribune did to GPO was fail to put the Marine Corps logo on both sides of some tote bags. Wait. New York Times:
An investigation by [GPO]'s inspector general found that Tribute "altered and submitted a false shipping document and subcontracted the predominant production function on two contracts without proper authorization," according to a 2015 report submitted to Congress.
Which doesn't explain why GPO returned to Tribute for the tote bags a year later.
FEMA never gave Brown any money. She is now suing the government for $70 million in debt accrued for the 50,000 meals she managed to almost deliver.
Brown told FEMA officials in an email exchange on Oct. 19 that, because of issues with suppliers, all 30 million meals would instead be delivered by November 7 – two weeks after the deadline.
She told ABC News on Friday that the original schedule in the contract was flexible and that she had been communicating with FEMA officials about the changes.
You can check out her website, but we took some screenshots just in case she stumbles upon some shame and takes it down:
Brown, who reportedly lost family in FEMA's other notable success story, Hurricane Katrina, spoke with ABC on Friday:
"I think there's a lacking of seeing the human aspect of everyone, the human aspect of the citizens of Puerto Rico and how they feel, the human aspect of the business owners trying to support them just trying to help out maybe that doesn't have the larger infrastructure but out of the kindness of their own heart they want to be able to help they're not seeing the human aspect they're only seeing a lowest possible bid or trying to meet a budget and not about the people."
She also fingered "a lack of infrastructure, particularly payment infrastructure on FEMA's part."
It appears the 50,000 meals (which actually made it to Jacksonville, FL for shipment before FEMA pulled the plug) actually came from Brown's other partner, the non-profit Breedlove. Not to drag them into this, but their website is here.
*
As we noted above, Cobra Acquisitions may be picking up the slack. Nasdaq reported the subsidiary of Oklahoma City-based energy giant Mammoth (which is reportedly flirting with serious self-enrichment if the new Puerto Rico power grid is built to run on fossil fuels)…more than doubled its contract to rebuild the Puerto Rican power grid on January 28, from the $200 million already invested in quarter four of 2017 to a cool $445 million.
PREPA requested FEMA clear the contract as "reasonable" and "in compliance with emergency procurement provisions of Puerto Rico;" the federal agency obliged in late December.
*
Everyone knows the only solution to government incompetence is to pour more confiscated taxpayer cash onto the fire. So last week, as the seventeen-day stopgap fizzled out and the Feds ran out of borrowing power for the second time this year, Senate Majority Leader Mitch McConnell (R-KY) and Senate Minority Leader Chuck Schumer (D-NY) huddled to further destroy the livelihood of their subjects employers.
Wading through the details, the disgustingly unaffordable package funds the Federal government for at least another month.
It blows through the 2011 Budget Control Act's limit on domestic spending by $57,000,000,000—$117 billion more than Trump requested.
Military spending will swell to $700 billion this year, a monstrous 13% increase from 2016, if our numbers are correct.
It bumps up to $716 billion  for 2019.
$90 billion for hurricane and wildfire relief was shoved in there, which sounds generous if you don't factor in that the victims of these disasters now have more debt to pay off when McConnell and Schumer are long dead.
Some choice goodies that were slipped in, according to New York Times, include: tax credits to prop up renewable energy (it'll be cheaper and safer for everyone, just wait); extension of a tax break for racehorse owners; exemption from a new college investment income excise tax for the non-tution-charging Berea College (conveniently located in McConnell's state of Kentucky); funding for abstinence-only sex ed (can't trust condoms, guys); repeal of $1.35 billion for an Obamacare public health program; repeal of Obamacare's Independent Payment Advisory Board, which ostensibly controls Medicare spending; faster implementation of shrinking the Medicare Part D "doughnut hole;" and extension of temporary subsidies to rural hospitals and underserved areas' health provider tuition loans.
And also billions for the VA, billions for NIH, billions for community health centers, billions for "infrastructure"…all of which Vox suggests will yield major fiscal stimulus.
The deal did not address protections for DACA recipients, the catalyst for last month's Federal shutdown (and a vote McConnell had promised Schumer to end the impasse). Like the rest of the country, these people appear to be utterly disregarded by McConnell's rabid lust for accumulating debt. Schumer forgot his earlier advocacy as well:
"After months of legislative logjams, this budget deal is a genuine breakthrough," Schumer said on the Senate floor. "After months of fiscal brinksmanship, this budget deal is the first real sprout of bipartisanship."
He proclaimed the deal has consigned "the pointless and arbitrary sequester caps to the ash heaps of history."
A speed bump emerged when Senator Rand Paul (R-KY) forced a procedural delay because the leadership would not allow any amendments to the fiscal depravity. While railing against idiotic government grants (including $700,000 studying whether Neil Armstrong inserted an extra "a" in his famous moon landing line, and coming up empty), Paul pointed out Republicans famously struck the Budget Control Act merely to slow down the rate of spending growth, and decried each and every deficit from the Obama administration.
The 2018 deficit, with this added $300 billion, is projected at $955 billion. Trillion-dollar deficits have become typical since George W. Bush in 2008. TheBalance.com shows how much we've added to our over $20,600,000,000,000 in national debt in each of recent years (which is slightly divorced from deficit).
"The reason I'm here tonight is to put people on the spot," Paul said. "I want people to feel uncomfortable. I want them to have to answer people at home who said, 'How come you were against President Obama's deficits, and then how come you're for Republican deficits?'"
Paul's fellow Republicans were pissed, as several are up for re-election this year and all reportedly wanted to start the weekend early. The most bone-headed reaction to Paul's pragmatism came from our favorite crony cow, Lindsey Graham:
"It appears 'General' @RandPaul is at it again. He just called for the immediate withdrawal of all forces from Afghanistan as a way to give the US military a pay raise," Graham tweeted. "Fortunately, only 'General' Paul — and the Taliban – think that's a good idea."
[America has been in Afghanistan, killing and being killed, without declaring war, for over 16 years.]
CNBC noted:
The vast majority of the Republican lawmakers who are opposing the budget agreement, including Paul, voted for the GOP tax law. The massive tax cuts are estimated to add more than $1 trillion to budget deficits over 10 years, even after economic growth is taken into account, according to the CBO.
The bill eventually passed early Friday morning, 71-28, and technically shuttered the government for several hours before the House could ram it through and get it to Trump to sign. It's unclear if anyone read all of the nearly 700 pages.
House Minority Leader Nancy Pelosi gave a House-record eight-hour speech advocating for DACA protections, largely reading testimony from Dreamers (DACA recipients) threatened with deportation next month, as the program was not extended by the crooked Schumer-McConnell generational theft. Pelosi voted against the bill, but it passed the House 240-186.
*
As we boosted the defense budget with fake money we don't have, it emerged as the Pentagon undergoes its first-ever audit that its own Defense Logistics Agency (annual budget: $40 billion) lost track of $800 million in construction projects.
The outside firm Ernst & Young who discovered the glaring errors (and warned more will be uncovered) are just one of the third party consultants who comprise $367 million of the nearly $1 billion audit. Politico reports the rest is to go back and fix broken accounting systems that are crucial to better financial management.
*
Customs and Border Protection continues to safeguard your liberties…by expanding locations at which it scans your face. To better patrol the U.S.-Mexican border, the McAllen, TX checkpoint will now catalog the face of every driver and passenger. About time:
The agency will use the results of the South Texas effort to set the stage for a wider rollout along the southern and northern borders, where the technology someday could be used to identify fugitives or wanted terror suspects. Customs and Border Protection already operates facial recognition exit programs at nearly a dozen international airports, including Houston's, aimed at making sure travelers are who they say they are.
"Traveler acceptance is really high, and we can thank the Apples and the Googles for that," said Colleen Manaher, CBP executive director of planning, program analysis and evaluation, in an interview at the Border Security Expo in San Antonio, where she revealed the Anzalduas project. "It's a game-changer."
Summer Part 1: Stories We Shelved!!! March 10, 19 and 22–Genes, Tattoos and Faces
[our emphasis]
Manaher (above) called the prospect of getting her grubby fingers on identification of just 50 percent of faces crossing the Port Anzalduas bridge "a home run."
*
And in the wonderful state of Kansas,
December Debacle: Stories from the Freezer!!! December 12: Kansas Lawsuit Settled
the two-party duopoly cracked down on attempts by the country's debt-laden youth to gain representation.
After six teenage boys filed to run in this year's gubernatorial election, the state House committee swiftly passed a bill from Rep. Blake Carpenter (R) requiring candidates to be "qualified electors"–that is, at least 18 years old, and able to vote.
The bill, which would not take effect until after the election, was reportedly co-drafted by Libertarian candidate Ethan Randleas (who happens to be 18). It is lauded as TRIGGER WARNING "common sense" by 17-year-old Tyler Ruzich (Republican candidate) and slammed as "reactionary" and "disenfranchis[ing]" by Jack Bergeson, 17 (Democratic candidate).
*
It's turning into a rocky year even for Kansans who are eighteen or older: renewing a drivers license may require residents to obtain new social security cards if their middle initial, not their full middle name is currently displayed; new state-issued birth certificates if all they have is a hospital document; and a marriage license, if they've ever changed their name. This will transform one's license into a Federal Real ID.
Secure driver's licenses and identification documents are a vital component of a holistic national security strategy.
–DHS website, our emphasis
The Federal Real ID Act was passed over 12 years ago on recommendation from the 9/11 Commission, but, like Common Core, has faced massive public opposition. It mandatory compliance has therefore been extended for various states (yellow, below).
On October 10, residents of non-compliant states will no longer be granted access to airports or military bases with their state-issued drivers license.
The veil is sliding off DHS's threat to states refusing to funneling all your passport, birth certificate, marriage license and other ID info into a single police state card with a literal TRIGGER WARNING gold star  (they're calling it a yellow star, for obvious reasons) that can pool all surveillance of your life at the filthy fingertips of the Federal agent manning the bar code reader:
It has been 12 years since the REAL ID Act was passed and half of all the states have already met the REAL ID minimum standards. It is time that the remaining jurisdictions turn their commitments to secure identification into action.
[our emphasis]
Fortunately, according to Charlotte Observer in 2016:
By 2010, more than 25 state legislatures had passed laws criticizing or refusing to comply with the law.
Kansas is currently "in compliance" until 2020. The Feds are signaling that for other, less obedient states that later this year,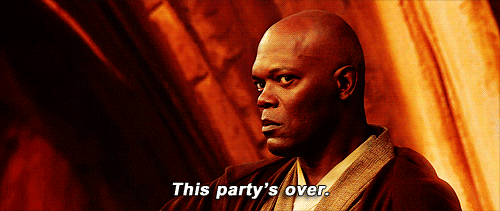 Thanks to our sources:
https://www.npr.org/sections/thetwo-way/2018/01/29/581511023/fema-to-end-food-and-water-aid-for-puerto-rico
https://www.theroot.com/fema-cutting-off-food-and-water-aid-to-puerto-rico-1822558738
https://www.theroot.com/tiffany-brown-head-of-the-one-woman-company-which-deli-1822897056
http://www.nasdaq.com/press-release/cobras-puerto-rico-contract-increased-to-approximately-445-million-update-on-puerto-rico-activities-20180129-01030
http://abcnews.go.com/Politics/fema-contractor-scapegoat-controversy-canceled-contract/story?id=52915221
http://thehill.com/homenews/senate/372748-senate-leaders-agree-to-two-year-budget-deal?userid=115887
https://www.wsj.com/articles/house-democrats-split-on-budget-deal-1518115903
https://www.cnn.com/2018/02/08/politics/budget-vote-congress-shutdown/index.html
https://www.cnn.com/2018/02/08/politics/rand-paul-analysis/index.html
http://money.cnn.com/2018/02/07/news/economy/rising-deficits/index.html
https://www.cnbc.com/2018/02/08/shutdown-news-rand-paul-holds-up-senate-budget-vote.html
https://www.politico.com/story/2018/02/05/pentagon-logistics-agency-review-funds-322860
https://www.mystatesman.com/news/facial-recognition-scanners-tested-soon-texas-mexico-border/K5zgnDYPlrvASb1k5c2vIP/
http://www.kansascity.com/news/politics-government/article198664404.html
http://www2.ljworld.com/news/2018/feb/11/new-drivers-license-requirements-causing-headaches/
https://www.dhs.gov/real-id