What a week in Washington and beyond.
Mohamed Noor was ultimately charged in his alleged slaying of Justine Damond last July. Besides third-degree murder and second-degree manslaughter charges (and a maximum 35 years in prison), the 32-year-old finally earned a termination from the Minneapolis Police Department. Which is interesting, because police chief Janee Harteau was forced out within a month of the incident:
Summer Part 2: August Agony!!! Looking Back: July 18: Crime and Punishment
Neither Noor [alliteration or repetition coming up? you decide] nor his partner Matthew Harrity had their body cameras running when Noor allegedly shot Damond across Harrity from the patrol car's passenger seat.
Harrity (with whom Noor is now court-ordered not to associate) testified to a grand jury last month.
Although the Minnesota police union reported 35 to 40 Minneapolis police officers were initially subpoenaed, apparently no one talked, prompting a grand jury. Noor's own first conversation with the law was reportedly Tuesday night when he surrendered. The prosecution noticed:
Hennepin County Attorney Mike Freeman blamed stonewalling by the Minneapolis police for the eight-month delay in charging Noor.
"This would have been done a good deal quicker if we had gotten cooperation," he said at a news conference Tuesday after Noor was charged.
Noor made $400,000 bail Wednesday after a night in jail.
[His attorney Thomas Plunkett is either the Mafia don on the left or the unkempt man on the right.]
Council for Minnesotans of African Heritage director Justin Terrell opined that the Somali-American Noor's treatment for shooting a white Australian woman is disproportionately punitive and rooted in racism.
Freeman (above, accusatory pointing) was reportedly reluctant to resort to a grand jury because the public detests secret proceedings and, well, police in Minnesota lately racked up multiple high-profile casualties:
Speaking of which, somewhat lost in the highly-publicized "March for our Lives" this weekend was the Sacramento police slaughter of 22-year-old Stephon Alonzo Clark, who was reportedly breaking windows. The law cornered the father of two in his grandparents' backyard and delivered 20 rounds of ammunition when they mistook Clark's cellphone for a gun.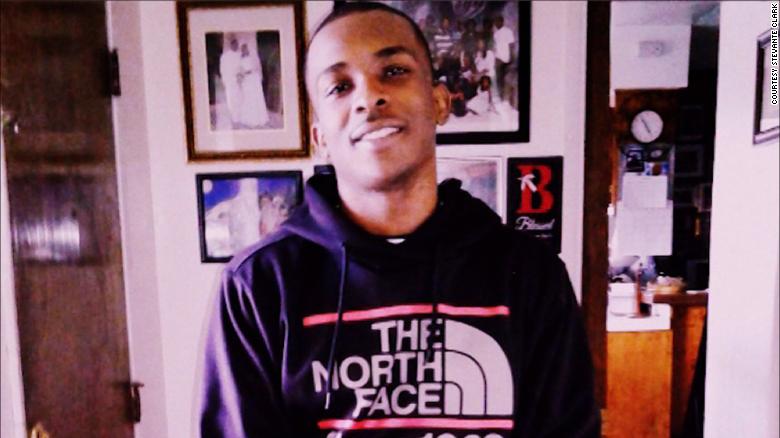 Police released video from their heat-seeking tactical chopper:
We can see Clark enter the yard (the cursor on the screen immerses the pilot in a video game hunting experience)…
…then get dropped by the officers:
There was some disagreement as to whether the officers announced their identities. Because that's the biggest problem here.
Sacramento police guidelines posted on the department's website do not specify that officers must identify themselves when encountering suspects. Sacramento police spokeswoman Linda Matthew said she did not believe such a policy existed.
Jim Pasco, executive director of the National Fraternal Order of Police, said that policies for departments vary across the country, but it would be impractical under such circumstances to expect officers to identify themselves.
"If you're in a chase and everybody's running, there isn't a lot of talking back and forth going on," he said.
According to Capital Public Radio, who have the body cam footage:
The video also confirms that law enforcement and first responders waited more than 5 minutes to approach Clark after the shooting. When they did, they put him in handcuffs before performing medical treatment.
*
After several months on the back burner, Trump's decision to bar transgender Americans from serving in the military has been resurrected, this time with the approval of Defense secretary James "Jim" Mattis.
*
Facebook founder Mark Zuckerberg reluctantly provided his first public admission of wrongdoing since he attempted to drum up "empathy" for Hurricane Maria victims with a virtual reality tour of Puerto Rico's utter destruction last October:
The overpriced Q-tip (below) is prepared to testify to Congress on the evil workings of Cambridge Analytica.
The short version: a Facebook app offered users to sign away rights to their personal information (and that of online "friends") to take a personality quiz. That data was used by Cambridge's right-wing customers to assist in Trump's election.
[reason notes the same privacy-usurping approach via third-party Facebook app–"Graph API"–successfully sealed Obama's 2012 re-election campaign. Because Obama was a Democrat, the ploy was revolutionary, not fascist.]
However, the social media platform apparently pledged to pull the plug on Graph API and disallow further mass collection from millions of unwitting Americans in April 2015. Oops.
Facebook lost $50 billion over the past week.
Zucks admitted to selling out the ignorant masses–and finally offered an apology–via a medium long extinct to all but nostalgic elites and non-internet households: print journalism.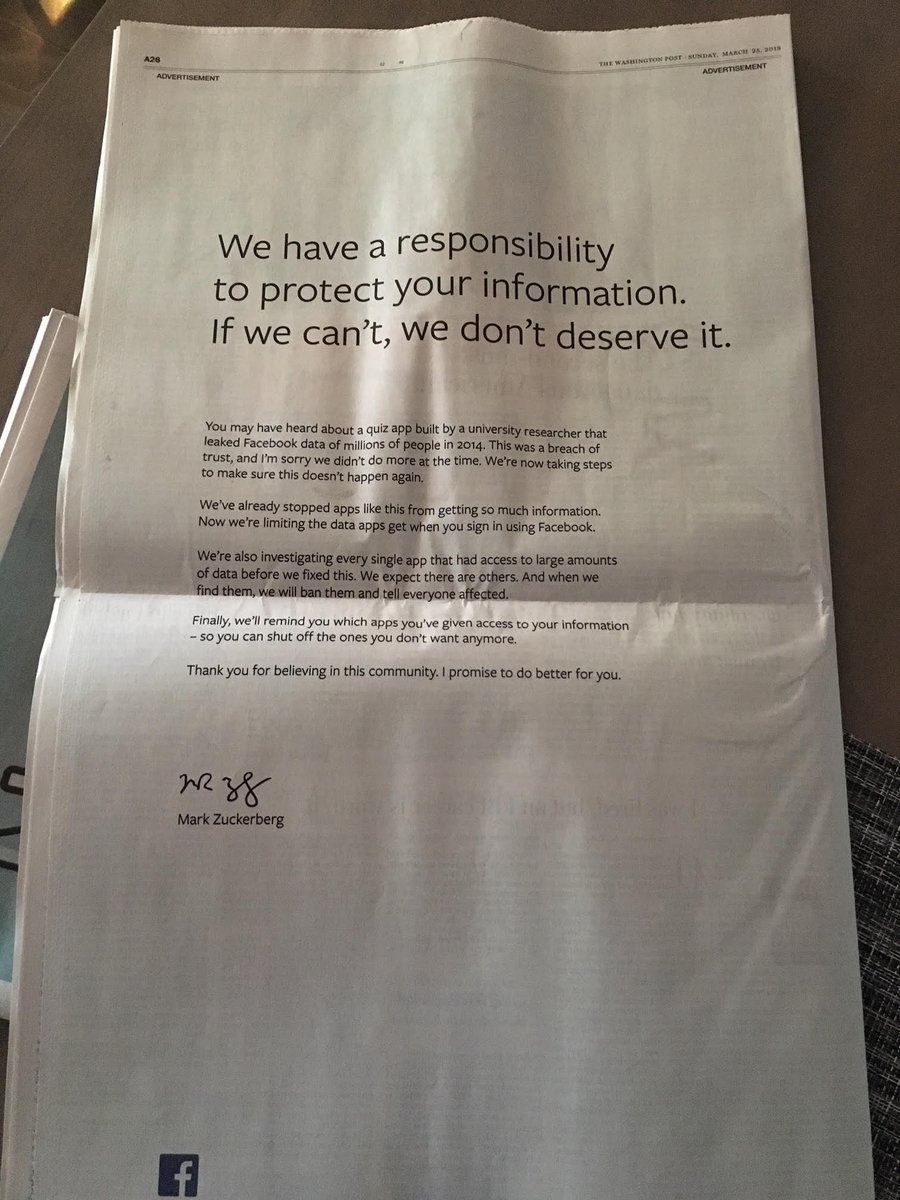 *
TSA's competence was on full display Friday night when Costa Rican customs found 58 grams of marijuana, edibles, pipes and cannabis oil the crack security squad at Fort Lauderdale International Airport apparently missed in New England Patriots safety Duron Harmon's luggage.
[Most of the weed was in a can of Arizona Iced Tea–peach flavor! Given the TSA's notorious beverage ban at security, Harmon must have checked the suitcase.]
Harmon was shipped back to the states. According to the C'Rican Fiscal Control Police, who were on alert for "spring break" travelers,  "[w]e want to prevent undesirable people from entering the country."
TSA will reclaim its investigative dominance with a new regulation: forcing passengers to remove electronic tablets from carry-on luggage in addition to laptops. A spokeswoman boasted the new harassment, which was [PUN ALERT] pilot tested in 10 airports last year (and apparently met with little resistance!) is part of "the first broad-scale changes to TSA screening procedures in the security checkpoint in more than 11 years."
Clearly she forgot the revolutionary "which line do I get to stand in" randomizer app:
*
And Congress plowed ahead with its latest spending blitz to meet an appropriations deadline. The damage: $1.3 trillion, which keeps the Feds afloat for six more months.
In the Senate, more Democrats than Republicans voted for Mitch McConnell's latest pork-stuffed financial condemnation of the country's younger generations. Notably, McConnell's fellow Kentuckian Rand Paul (a "no") allowed the 65-32 vote without a procedural holdup similar to his protest just a few weeks prior (the last time a temporary, last-second spending patch was scraped together by the cancerous Federal installation that ran out of other people's money over $21,000,000,000,000 ago).
FEMA Withdraws Aid Withdrawal Amid Backlash, Raises Stakes with Seedy Power Provider and Drops the Ball on Puerto Rican Food Delivery; Congress Shits on Taxpayers Again; Your Location and Face Broadcast to More Federal Agencies
Jim Risch (R-ID) ("no") almost dinged McConnell's dwindling pride by striking a provision renaming a wildlife refuge after a former political rival of Risch. Priorities.
(The rival is reportedly the recently deceased former Democratic Beehive State governor Cecil Andrus.)
But the House had already passed the bill 256-157 (more "no" votes came from the majority party, just like the Senate), and an unnamed member objected to the modification.
(Of note, Congress had a two-week vacation starting Friday evening.)
On Thursday night Paul live-tweeted his attempt to read the 2,200-page bill, which was provided to both houses of Congress about 48 hours before the funding deadline. He reportedly got through 600 pages.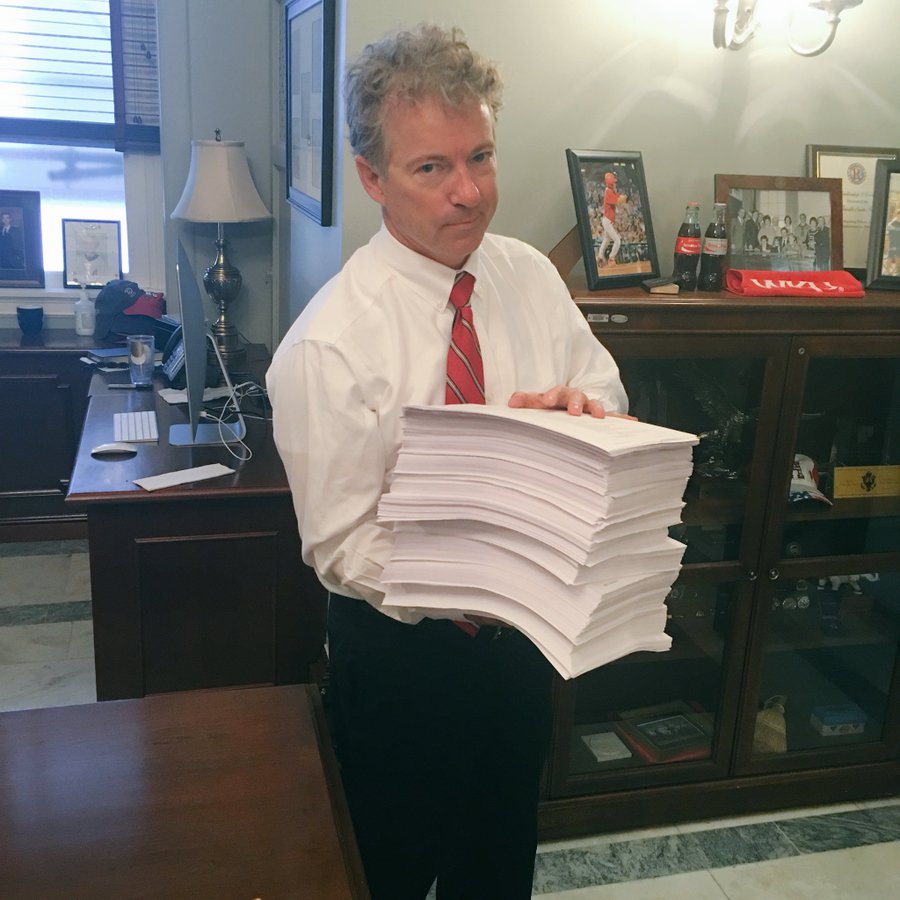 McConnell heralded the measure as "the end of disproportionate and harmful cuts to Department of Defense funding […] the largest year-on-year increase in defense spending in fifteen years."
Other reactions included no-voters John Kennedy (R-LA) ("a great dane-sized whiz down the leg of every taxpayer") and Bob Corker (R-TN) ("one of the most grotesque pieces of legislation I can remember").
Buried in the bill was a $48.8 million increase in the Senate budget. The House upped their budget by $10.9 million.
Thanks to our sources:
https://www.nbcnews.com/news/us-news/ex-minneapolis-police-officer-charged-justine-damond-killing-makes-bail-n858876
https://www.theguardian.com/us-news/2018/feb/16/police-partner-of-justine-damonds-killer-testifies-at-grand-jury
http://www.startribune.com/minneapolis-police-officer-mohamed-noor-turns-himself-in-on-charges-in-justine-damond-killing/477405923/#1
https://www.reuters.com/article/us-california-police-policy/california-police-shooting-of-unarmed-black-man-forcing-look-at-policies-idUSKBN1H003T
https://www.reuters.com/article/us-california-police-policy/california-police-shooting-of-unarmed-black-man-forcing-look-at-policies-idUSKBN1H003T
https://www.recode.net/2018/3/21/17149964/facebook-ceo-mark-zuckerberg-congress-data-privacy-cambridge-analytica
Zuck apologizes for Cambridge Analytica scandal with full-page print ad
https://www.necn.com/news/sports/New-England-Patriots-Duron-Harmon-Marijuana-Costa-Rica-477819263.html
https://www.usatoday.com/story/sports/nfl/2018/03/24/duron-harmon-marijuana-costa-rica-arrest-detained/455944002/
https://news.co.cr/new-england-patriots-player-duron-harmon-attempts-to-enter-costa-rica-with-marijuana/71750/
https://www.govtrack.us/congress/votes/115-2018/s63
http://thehill.com/homenews/senate/379883-senate-approves-13-trillion-spending-bill-sending-to-trump?userid=115887&utm_source=&utm_medium=email&utm_campaign=14308
House OKs Spending Bill to Fund Government, but 90 Republicans Vote No
http://freebeacon.com/politics/congress-gives-bonus-omnibus/