In a two-hour marathon vote January 16,  a visibly humiliated Senate majority leader Mitch McConnell scraped together 60 votes to vote on the six-year re-authorization of FISA Section 702 without allowing amendments.
The Foreign Intelligence Surveillance Act of 1978 gives the NSA authority to ignore the Fourth Amendment to the Constitution and collect phone logs of all Americans, as revealed by Edward Snowden in 2013, because they could all be terrorists.
Claire McCaskill (D-MO), up for re-election this November, fought flu symptoms to cast the sixtieth vote to forgo any debate of the re-authorization and advance to a final vote.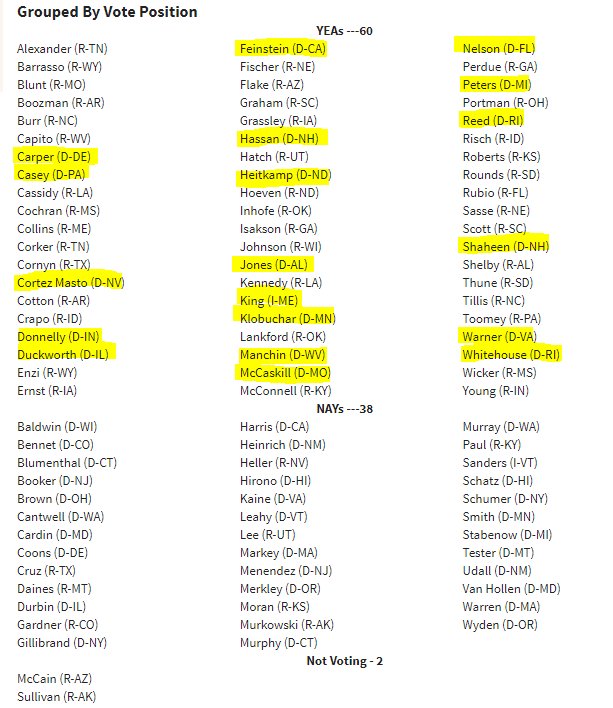 That January 18 vote exceeded the simple majority required, flipping four senators who had advocated debate to "yea"–Ted Cruz (R-TX), Tim Kaine (D-VA), Jerry Moran (R-KS),  Chuck Schumer (D-NY)–and picking up Dan Sullivan (R-AK), who missed the filibuster vote:
Trump signed the bill January 19, proclaiming on Twitter: "Just signed 702 Bill to reauthorize foreign intelligence collection. This is NOT the same FISA law that was so wrongly abused during the election. I will always do the right thing for our country and put the safety of the American people first!"
This represented quite a reversal from his January 11 tweet, in which he quoted a headline: "[']House votes on controversial FISA ACT today.['] This is the act that may have been used, with the help of the discredited and phony Dossier, to so badly surveil and abuse the Trump Campaign by the previous administration and others?"
In an exclusive Fox News interview, chief of staff John Kelly assumed credit for changing his boss's mind:
"I see a man who can change his mind when the facts and data and staff … bring him to a different conclusion."
The House had passed the matching version of the bill on January 11 by 256-164, after rejecting an amendment by Zoe Lofgren (D-CA) and Justin Amash (R-MI) to add the barest of privacy protections for American communications "incidentally" caught up in the surveillance of foreign agents for which the secret FISA court that now allows stockpiling all American communications by the Federal Government was originally established.
*
On January 19, Politico reported NSA was sitting on some surveillance data pertaining to pending lawsuits, "accidentally" destroyed that data, and misled a federal court about their actions.
Related:
Summer Part 2: August Agony!!! Looking Back: May 12: NSA, "Exploits," WannaCry and Whistleblowers
Apparently, in addition to hoarding all our phone logs, NSA is obligated to preserve their ill-gotten, privacy-destroying goodies from our internet traffic, since 2007 when George W. Bush was slammed for warrantless wiretaps of foreigners. How far we've come.
But Dr. Mark O. and Elizabeth B. (they're your employees and they watch you, but you're not allowed to know their real names) revealed–apparently hours before the above-detailed FISA renewal–that legally-mandated logs of intercepted internet traffic from years 2001 through 2007, 2009, 2011 and 2016 were all deleted. And the backup tapes. Oops.
"The NSA sincerely regrets its failure to prevent the deletion of this data."
In 2014, Miriam P. reassured the court that legally-must-be-retained data was safe:
The NSA is "preserving magnetic/digital tapes of the Internet content intercepted under the [PSP] since the inception of the program," she wrote, adding that "the NSA has stored these tapes in the offices of its General Counsel."
The agency now says, "regrettably," that the statement "may have been only partially accurate when made."
The latest NSA filing says the ongoing investigation indicates that officials did a "physical inspection" in 2014 to confirm the tapes' presence in the counsel's office storage space. However, "those tapes largely concerned metadata," not the content of communications the NSA intercepted.
[our emphasis]
*
The continued collection of all Americans' communications without a warrant (despite petty assurances from McConnell, after dragging the bill over a bipartisan filibuster, that the six-year renewal "does not allow the targeting of American citizens") took precedence over shielding DACA participants from deportation. And funding the government itself, which shut down all "non-essential functions" on January 20.
Obama Proposes Addressing Debt After He's Gone and Collecting Pension in Hawaii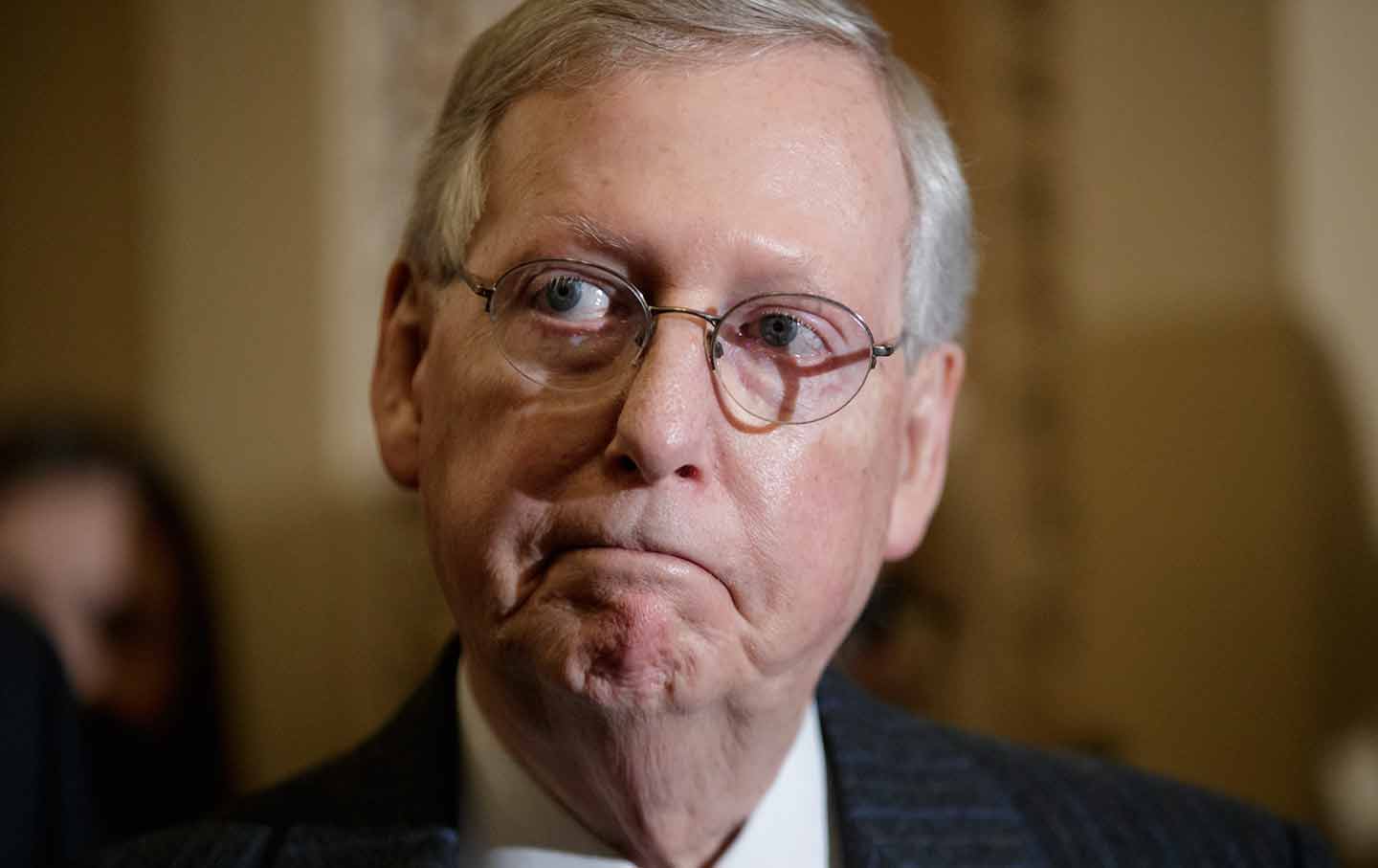 Members of Congress, hiding behind the 27th Amendment, will continue to cash paychecks.
The House passed a band-aid bill to fund the government for four weeks and renew CHIP, a recently-expired insurance program for children ineligible for Medicaid, but the Senate rejected it, largely at the behest of of Democrats, leading to many Republicans, including Trump's press secretary Sarah Huckabee Sanders, dubbing the debacle the "Schumer Shutdown," despite the minority leader (below) offering Trump two bipartisan deals Friday morning (after assuring all citizens' phone and email data was still open for Federal probing).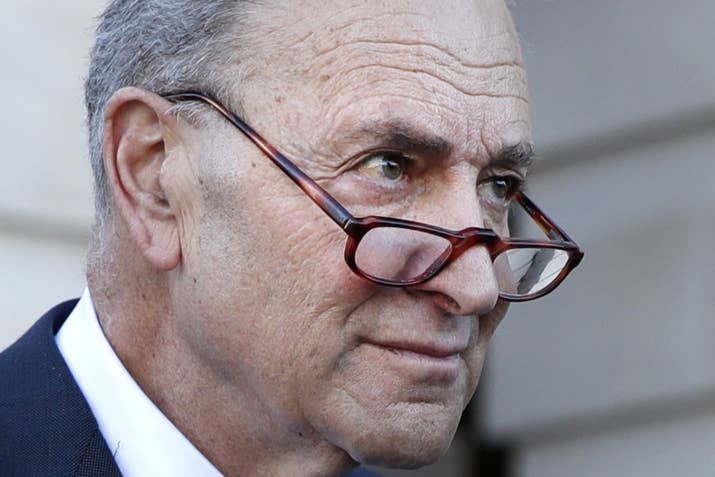 Schumer even admitted on the Senate floor he had offered to entertain Trump's border wall in one proposed bill in exchange for the DACA protections.
Priority one: taking. Priority two: watching.
BuzzFeed, incidentally, spoke with a former NSA employee, who lamented that the agency's contractor morale will suffer, because they could be vacationing in nicer weather if not for the uncertainty of furlough. The headline literally used the word "suffering.")
*
UPDATE 1/21/18:
It was quite a weekend for government security dropping the ball. Reuters noted the FBI lost some text messages probing Hillary's Secret Server.
Agent Peter Strzok and attorney Lisa Page reportedly dragged on a text convo from just after Trump's election through last May. The FBI fingered its "technical system" for "failing to preserve" missives that may have focused D.C. on the newly-inaugurated president–and away from the criminal behavior of his rival.
Republicans have said the texts, which referred to Trump as an "idiot" and a "loathsome human," raised concerns the FBI is biased against Trump and may have given Clinton favorable treatment after deciding not to recommend criminal charges in connection with the probe into her use of a private email system while she was secretary of state.
Page and Strzok (below) both did time on Robert Mueller's squad to investigate Trump's possible collusion with Russia to win the White House. Strzok was reassigned as soon as Mueller learned of the texts; Page finished work for the probe in July. It's unclear whether either was vetted for impartiality to work for the Special Counsel.
Fox News reported Page texted Strzok following Loretta Lynch's sleazy meeting with Hillary's husband during the investigation:
"It's a real profile in couragw [sic], since [Lynch] knows no charges will be brought."
Days later, Hillary was cleared by then-FBI director James Comey.
According to Heavy:
"God Hillary should win 100,000,000 – 0," Strzok wrote to Page, according to one message obtained by Politico. "Also did you hear [Trump] make a comment about the size of his d*ck earlier? This man can not be president," Page responded, Politico reported.
Thanks to our sources:
https://www.kansascity.com/news/politics-government/article195420669.html
https://www.senate.gov/legislative/LIS/roll_call_lists/roll_call_vote_cfm.cfm?congress=115&session=2&vote=00011#top
https://www.theverge.com/2018/1/20/16913534/president-donald-trump-signed-fisa-amendments-reauthorization-act-of-2017-section-702
http://www.foxnews.com/politics/2018/01/18/senate-votes-to-approve-reauthorization-controversial-fisa-surveillance-provision.html
http://www.cnn.com/2018/01/12/politics/fisa-surveillance-weird-politics/index.html
https://www.politico.com/story/2018/01/19/nsa-deletes-surveillance-data-351730
https://www.vox.com/policy-and-politics/2018/1/20/16912726/trump-shutdown
http://thehill.com/homenews/senate/369889-schumer-says-he-offered-to-discuss-wall-as-part-of-trump-deal
https://www.reuters.com/article/us-usa-fbi-clinton/senator-says-fbi-lost-crucial-texts-tied-to-clinton-probe-idUSKBN1FA15O?feedType=RSS&feedName=topNews
http://www.foxnews.com/politics/2018/01/21/newly-released-texts-between-ex-mueller-team-members-suggest-knew-outcome-clinton-email-probe-in-advance.html