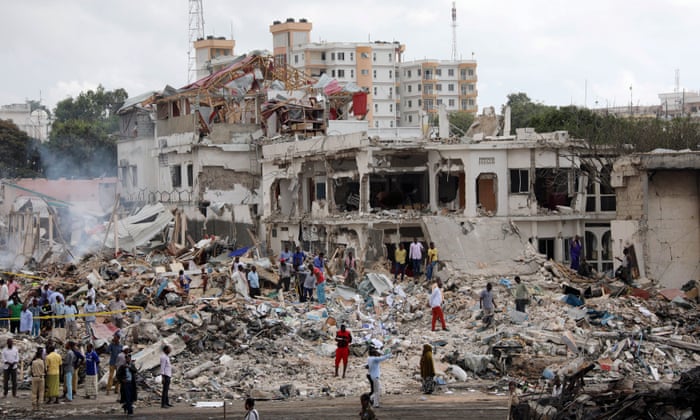 Although the al-Qaeda affiliate has yet to claim responsibility, Somalian fundamentalist Islamic group al-Shabaab is suspected of detonating a truck bomb near Somalia's ministry of foreign affairs on October 14, leveling several buildings.
Related:
The explosives may have been stolen from the African Union peace-keeping mission Amisom, who have 20,000 troops in Somali. A Somalian government "expert" walked back the blame on the al-Shabaab terrorists, insisting they meant to target the foreign ministry and dumping the live truck next to an fuel truck instead was "very, very bad luck." (For the terrorists?)
Initially the death toll hovered at "over 300." By December it was up to 512. Two Americans were killed.
al-Shabaab-linked media reported the attack. However, according to The Guardian, al-Shabaab is known to avoid claiming responsibility for operations which it believes may significantly damage its public image among ordinary Somalis.
They also promised more terror attacks earlier this year after Trump reportedly vowed "new military efforts" against al-Shabaab.
The anti-Shabaab action should not be confused with America's campaign against al-Shabaab rival ISIS in Somalia. In November, we hit Somalia's ISIS faction, reportedly a base in Buqa. Express suggested Trump ordered the strikes as part of his promise to attack ISIS "ten times harder" following attacks on America, a declaration made just days after Sayfullo Saipov (below) allegedly slaughtered eight people in New York City with a rented U-haul truck on October 31 in the name of ISIS.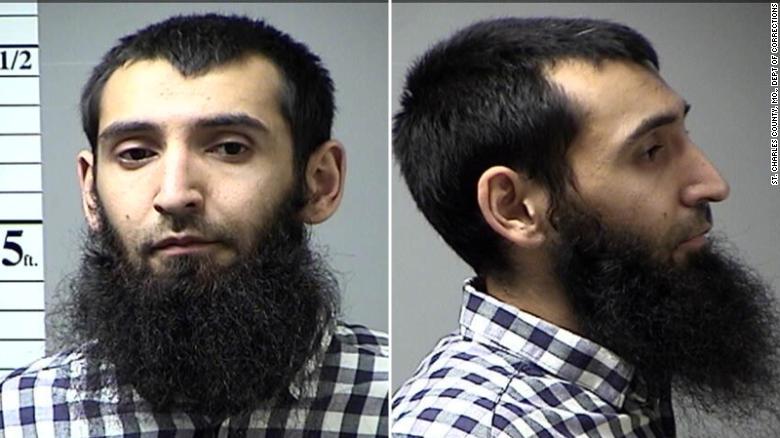 U.S. Africa Command reported "several terrorists" were killed, and Somalia's government cooperated. This is at least the thirteenth American drone strike of al-Shabaab in 2017, although Russia has been pounding them pretty good.
America has been messing around in Somalia since at least 1993. Our raid of Mogadishu and its ensuing press coverage inspired the 2001 Ridley Scott movie Black Hawk Down.
In May, Navy SEAL Kyle Milliken, 38 (above), was killed fighting al-Shabaab–the first American casualty in Somalia since the 1993 raid described above. Milliken was reportedly on SEAL Team Six, who killed Osama bin Laden in 2011.
al-Shabaab have waged war on the Somalian government for over ten years.
Thanks to our sources:
https://www.theguardian.com/world/2017/oct/15/truck-bomb-mogadishu-kills-people-somalia
http://www.cnn.com/2017/12/03/africa/somalia-mogadishu-bombings-death-toll/index.html
http://www.independent.co.uk/news/world/americas/us-air-strikes-isis-somalia-puntland-first-attack-buqa-qandala-al-shabaab-a8036371.html
https://www.express.co.uk/news/world/875233/isis-us-airstrikes-somalia-donald-trump-extremism-new-york-terror-attack
https://www.usatoday.com/story/news/world/2017/11/03/u-s-military-carries-out-1st-airstrikes-against-isis-fighters-somalia/829704001/
http://abcnews.go.com/Politics/trump-military-hitting-isis-10-times-harder-nyc/story?id=50907689
https://www.nbcnews.com/news/world/navy-seal-killed-somalia-idd-15-year-veteran-kyle-milliken-n755836