Mohamed Noor (above) offered condolences via his defense attorney to the family of Australian/American dual citizen Justine Damond (below), who Noor fatally capped on July 15.
(Ms. Damond's actual surname was Ruszczyk, but she reportedly took her fiancé Don Damond's name before their marriage–scheduled for August 2017. We're going with "Damond.")
The 40-year-old yoga instructor reportedly called "9-1-1" (twice!) that Saturday evening to notify police of a suspected assault behind her home.
Apparently, Damond ran up and "slapped" the back of the patrol car, whose lights were off as it moved through the alley looking for the assailant. (Noor's partner, one-year veteran Matthew Harrity, was driving, and described being "startled" by the noise.)
At that point, Noor fired from the passenger seat, across Harrity's body and into the abdomen of Damond, who was at the driver's side window.
*
According to Associated Press,
Noor was one of several Somali-Americans hired by the department in recent years as part of the city's public effort to diversify so it better reflects the city.
On July 25, Minnesota Public Radio obtained a search warrant (???) from Minnesota Bureau of Criminal Apprehension that revealed:
"Upon police arrival, a female 'slaps' the back of the patrol squad … After that, it is unknown to BCA [Bureau of Criminal Apprehension] agents what exactly happened, but the female became deceased in the alley."
Sensitive!
Interestingly, Minnesota is the only state that requires a two-year college degree of all police officers. (Most departments prefer a four-year degree, according to Associated Press.)
Noor, 31, with a four-year degree in business administration and economics from Augsburg College, completed the certificate program recommended for non-criminal justice degree holders looking to get into law enforcement (see below).
According to the Star Tribune, Noor completed a seven-month "accelerated police cadet program" in 2015.
James Densley, criminal justice teacher at Metropolitan State University, told the Star Tribune: "The cadet program is rigorous, no doubt, but it is also an immersive paramilitary experience, taught by practitioner faculty without advanced degrees, and I suspect it leaves students with a limited view of the profession."
[our emphasis]
Minneapolis Police Department has reportedly run into difficulty filling police officer slots after (darthfrankthetank.com fully recognizes there are plenty of outstanding "public servants" across the country that do not necessarily take government jobs solely for the benefits, especially those that will presumably be paid to their families should the applicant lose their life in a riskier "public service" job such as police officer) [a] pension change that spurred a wave of retirements among peace officers statewide in 2014.
According to Star Tribune, advocates commend the "fast-track" cadet program as "a way to attract more diverse people with broader life experiences."
Critics believe it is lacking in instructing common sense approaches to slowing down confrontations and defusing hostile situations.
Nate Grove of the Minnesota Peace Officer Standards and Training Board maintains the fast-track curriculum includes "teaching and modeling de-escalation techniques."
*
Of note, Noor is obliged to offer any information possible to the internal investigation if he wants to keep his job. And that information will by definition never make it to the courtroom, according to Daily Mail:
[Under] the Garrity Warning in Minnesota […] public employees under internal investigation are given the option to provide information or face disciplinary action.
'Because you are being required to provide information under the threat of disciplinary action, the information you provide, and any evidence resulting from the information you provide, cannot and will not be used against you in any subsequent criminal proceeding,' the warning reads.
CNN reported:
Department records indicate [Noor] had three complaints filed against him, the details of which are not public. One was closed without any disciplinary action and two are still open.
*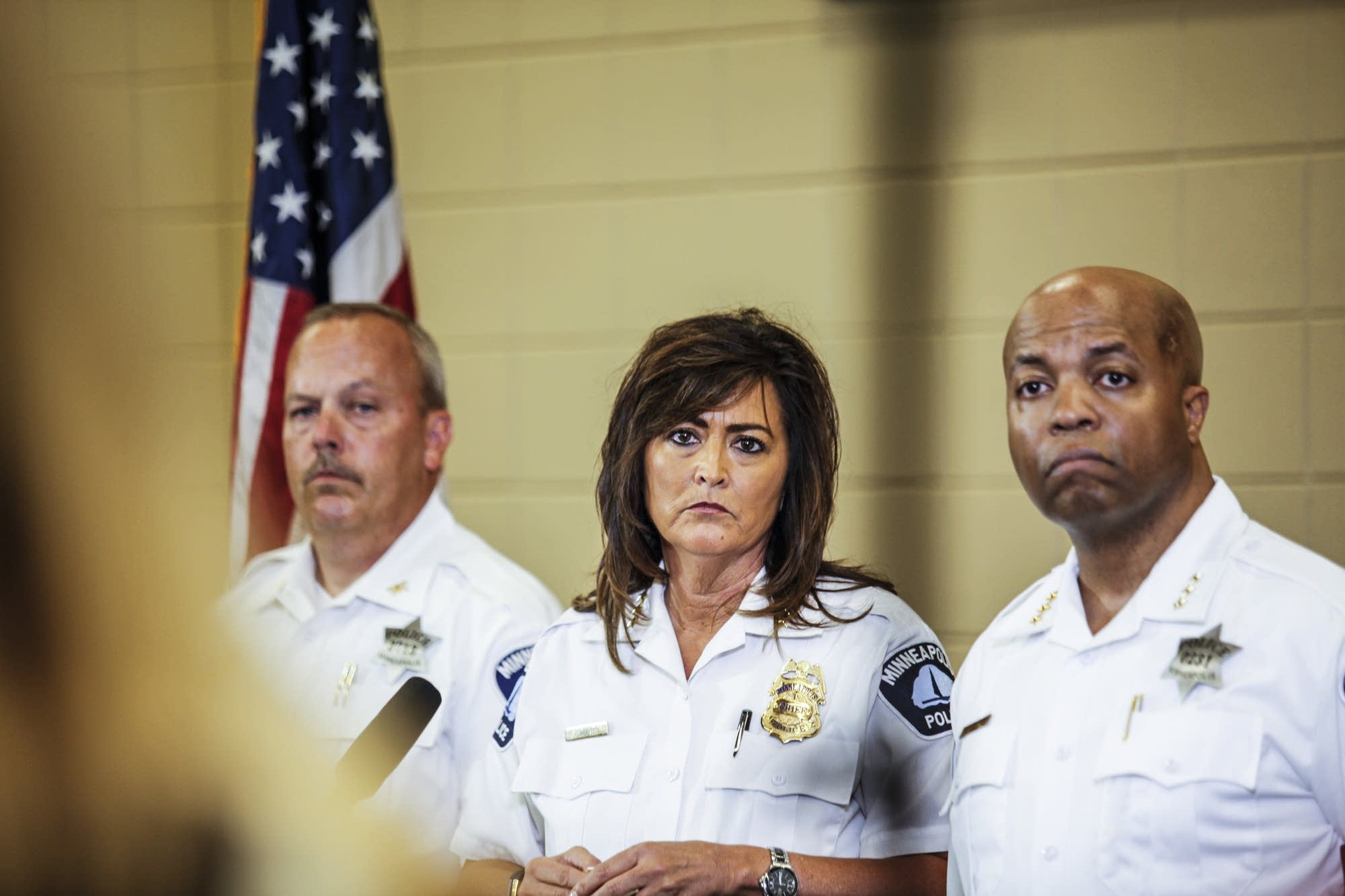 Police Chief Janee Harteau (above, center), reportedly the first female, first lesbian and first Native American head of Minneapolis Police Department, resigned at the request of Mayor Betsy Hodges.
Hodges was shouted out of her press conference announcing Harteau's replacement, Assistant Chief Medaria "Rondo" Arradondo (below, white shirt), on July 21.
Harteau said of Noor's credentials the day before she was forced to resign: "We have a very robust training and hiring process. This officer completed that training very well, just like every officer. He was very suited to be on the street."
On July 24, CNN reported Damond's fiance and other family hired Robert Bennett to sue the city. Mr. Bennett most recently negotiated a settlement for the family of another Minnesota resident killed by a local government employee: Philando Castile.
Related:
Summer Part 2: August Agony!!! Looking Back: June 16: Philando Castile Update
*
Also on July 18, an otherwise law-abiding father of four was wrenched from his Ohio home and deported to Mexico. Crime: not a citizen.
Jesus Lara Lopez, 37,  had been in America for 16 years, working and paying taxes. Immigration authorities got their opening to harass him through a police tip in 2008 after [Lopez] was stopped by police for driving without a license.
Lopez was then allowed to remain in America and authorized to work, despite a federal judge ordering his removal in 2011.
However, federal authorities dribble out favors to maintain a veneer of benevolence: Lopez scored a stay in 2014.
"[I]n a further exercise of discretion, the agency has allowed [Lopez] to remain free from custody to finalize his departure plans. The agency will continue to closely monitor his case to ensure compliance."
—ICE spokesperson Khaalid Walls. [our emphasis]
Many Americans should be able to relate to Lopez, if only through their kitchen cabinets:
The New York Times reported in June that Lopez worked "the graveyard shift packing Milano cookies and Goldfish crackers" at Pepperidge Farm.
[our emphasis]
Lopez' work permit came through third-party company Spherion, who hired him for Pepperidge Farm in October 2016.
His wife and children set up a Go Fund Me page to support the family Lopez left behind in Willard, OH.
Related:
Thanks to our sources:
https://www.yahoo.com/news/minneapolis-officer-allegedly-shot-justine-191820294.html
https://www.yahoo.com/news/personnel-records-minnesota-officer-shot-woman-221652854.html
http://www.cnn.com/2017/07/21/us/minneapolis-police-chief-resigns/index.html
http://www.dailymail.co.uk/news/article-4737564/Justine-Damond-U-S-Mohamed-Noor-never-face-charges.html
http://www.startribune.com/minneapolis-police-face-questions-about-noor-s-fast-track-training/436057173/
http://www.cnn.com/2017/07/18/us/mohamed-noor-minneapolis-police/index.html
http://www.cnn.com/2017/07/24/us/minneapolis-justine-ruszczyk-attorney-robert-bennett/index.html
https://www.yahoo.com/gma/ohio-father-4-bids-farewell-deportation-mexico-171004765–abc-news-topstories.html
http://www.cleveland.com/metro/index.ssf/2017/07/jesus_lara_lopez_prays_for_a_miracle_after_deportation_to_mexico_photos.html