The most pathetic head of a militant, unnecessary government agency was forced out on July 5, ending months of antipathy and taxpayer dollar waste. Scott Pruitt resigned two days after evidence surfaced that he forged his official events calendars to avoid (apparently this is an emotion he is capable of harboring) embarrassment.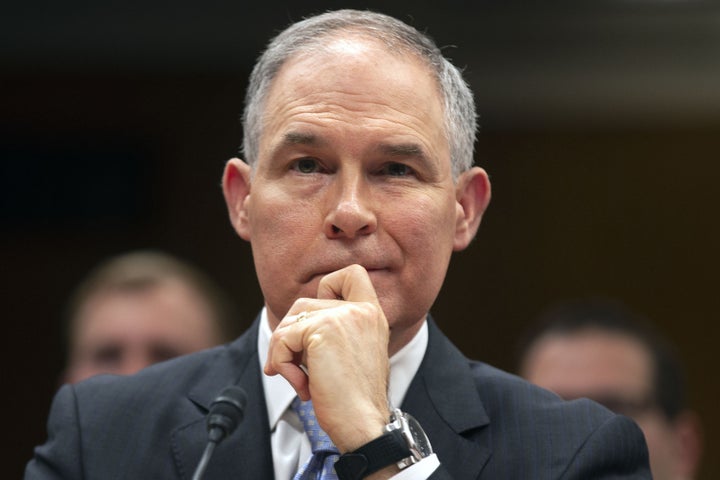 As we have reported previously, Pruitt was ladling out exemptions to the Renewable Fuel Standard that distorts the ethanol market. Iowa Senators Chuck Grassley  and Joni Ernst were pissed, and began talking up Pruitt's scandals.
(Interestingly, while Trump promised to continue this inefficient propping up of Iowa corn farms, ethanol subsidy adversary and Texas Senator Ted Cruz actually won the state's 2016 GOP primary for president.)
To be fair, while Pruitt did apparently use staffers to land his daughter McKenna the position of clerk of the White House Counsel last summer, a breathlessly-shared New York Times story that he used the EPA mantle to maneuver her into law school at University of Virginia turned out to be shoddy reporting.
He did use his pre-Trump career subordinates to score a letter of recommendation from former Speaker of the Virginia House of Delegates, William Howell.  McKenna (below) got the coveted seat.
However, much like Veterans Affairs, the pompous Oklahoman kept two sets of schedules: the official public record, and his actual itineraries. Reportedly, the former were doctored:
Pruitt's aides would print sections of the private calendar containing details of events, gather around a table, sometimes in Pruitt's office, and decide what would be omitted or altered on the public calendar.
Some calendar events hidden from the public and uncovered by CNN include Pruitt noshing with coal producer Alliance Resource Partners CEO, Joseph Craft, and Vatican official (and accused sex criminal) Cardinal Pell when Pruitt blew through $120,000 of taxpayer cash in Italy last year.
Seven of the undisclosed meetings involved individuals who were nominated or reportedly under consideration for EPA positions.
Vox reported on perhaps Pruitt's most disturbing extravagance yet:
The EPA, according to three expense line items for April, spent a total of $2,749.62 on "tactical pants" and "tactical polos."
Pruitt's office spent $24,115 on a variety of tactical clothing and body armor in seven separate orders. 
[our emphasis]
Unfortunately, the "arm ourselves against the weather" notion is a holdover from previous administrations:
EPA Spends $200,000 on Body Armor to Prepare For Changing Climate
Much of the dirt on Pruitt, including the calendar alterations and daughter internship overture, came from Trump handler Kevin Chmielewski (below, not Trump), who was fired from EPA in March.
Washington Free Beacon, however, found evidence Chmielewski actually resigned without giving a reason.
Apparently, the Presidential Personnel office, which had no qualms tolerating a similar situation for Jared Kushner, raised Cain over irregularities in the former bagman's security clearance. Chmielewski, who worked briefly for DHS before EPA, was flustered:
In a lengthy, combative interview with the Free Beacon, Chmielewski repeatedly refused to answer several questions and threatened to spend the "rest of his career going after" this reporter.
He said neither the PPO, nor anyone else in the federal government, ever contacted him with background check concerns. He told the Free Beacon that he has a permanent Top Secret-level security clearance but would not provide any paperwork to prove it.
"This is how ridiculous and idiotic you are," Chmielewski said in the interview.
Free Beacon also found $7,667 in unpaid taxes to the state of Maryland and a 2005 DUI tarnishing Chmielewski's record.
Pruitt was replaced by deputy Andrew Wheeler, a former lobbyist who squints all the time.
*
An ingenious Chicago man, Dushaun Henderson-Spruce (below), duped the US Postal Service into forwarding all corporate mail for (wildly more successful, despite USPS's government-backed box monopoly) rival UPS to Henderson-Spruce's apartment. For three months.
NPR reported the paper form–top government efficiency!–was not even filled out correctly:
At first, the initials 'HS' were written on the signature line, but the initials were then scratched out and replaced with 'UPS,' according to the charges.
Henderson-Spruce, who told investigators he briefly worked for UPS several years ago, was previously charged in 2016 for one count of misdemeanor bank fraud, for possession of a stolen check.
New charges carry a potential 25 years.
*
In May, NSA indiscriminately wiped hundreds of millions of "call detail records"–everything they (unconstitutionally) compiled since 2015–because in coercing the telephone companies to relinquish private phone records, they inadvertently bagged "some CDRs that NSA was not authorized to receive."
Because you weren't allowed to know they were recording all your call logs until Snowden revealed the spy agency's Constitution trampling, you also get no insight into the deletion process. Shut up and let the Government take care of you.
*
In June, bumbling criminal and ex-Trump campaign chair Paul Manafort was sent to jail, his house arrest revoked for new charges of witness tampering. He picked up new charges of obstruction of justice and conspiracy to obstruct justice, to which he pleaded not guilty.
After initially bitching from his private solitary suite that being two hours outside of D.C. limited face time with his attorneys to prepare his defense, Manafort is now reportedly boasting on the monitored prison phone lines that he circumvents the prison's "no email" rule by typing emails on a laptop that his associates move in and out of the compound. The messages send as soon as the team hits a "hotspot."
Even the smartest criminals slip up occasionally:
*
Delta is weathering another rough summer. First, public backlash was fierce when Delta banned "pitbull-type service animals" because–get this–they bite:
"We must err on the side of safety. Most recently, two Delta employees were bit by a pit bull traveling as a support animal last week. We struggled with the decision to expand the ban to service animals, knowing that some customers have legitimate needs, but we have determined that untrained, pit bull-type dogs posing as both service and support animals are a potential safety risk."
(Washington Post did a fun expose in January on passengers abusing the "emotional support animal" loophole to get large dogs–and ducks–seats on planes.)
Delta said it flew 250,000 [emotional support] animals last year, up 150 percent from 2015, while "incidents" such as biting or defecating had nearly doubled since 2016.
Then, Delta's contractor SkyWest Airlines turned a plane back to the gate at Fort Wayne International when a passenger was too slow to turn her phone to "airplane mode" during taxi.
Other passengers, including a Latina woman, who spoke up in defense of Rodgers […] [a] total of four adults and a child were removed from the flight.
The original transgressor, Robyn Rogers, is on Instagram as "DJ Reborn."
If it matters, from the New York Post-obtained video, Rogers appears to be black, and the flight attendant white.
*
Sketchy suspected House Democrat data downloader Imran Awan, who we are not allowed to characterize as sketchy because he is an immigrant, pleaded guilty to a single charge of bank fraud.
Mr. Awan's sentencing was scheduled for Aug. 21. Under federal guidelines, he faces a likely range of zero to six months in prison. And as part of the agreement, the government will ask the court to dismiss all charges against [Awan's wife] Ms. Alvi when Mr. Awan is sentenced.
Politico broke it down:
At the time of his arrest, Awan was accused of attempting to defraud the Congressional Federal Credit Union by obtaining a $165,000 home equity loan for a rental property, which is against the credit union's policies since it is not the owner's primary residence. Those funds were then included as part of a wire transfer to two individuals in Faisalabad, Pakistan, according to the indictment filed against Awan.
Media shrills such as Washington Post, which have completely ignored Awan & company's sordid subterfuge because it makes the Democrats look like idiots, gleefully declared Awan's legal victory to "debunk […] conspiracy theories."
The Pittsburgh Post-Gazette noted right-wing news sites and Trump's reactionary interest in the "Pakistani mystery man" is an "anti-Muslim, right-wing smear job."
Right-wing Daily Caller obtained a transcription from a September 2016 powerpoint presentation of Theresa Grafenstine, Inspector General for the House who conveniently retired last year.
According to her LinkedIn, Grafenstine (above) now works for Deloitte Consulting.
Grafenstine found that Imran made "unauthorized access" to congressional servers in a way that suggested he was trying to "conceal" his activity and that his unusual activity suggested a server could be used for "nefarious purposes."
As we have reported previously, Awan and his highly-paid relatives, who were all fired, were trippin' with the inventory. The IG report found over $100,000 in electronics were removed from House inventory when the alleged conspirators ("shared employees" Imran Awan, Abid Awan, Hina Alvi, Jamal Awan and Rao Abbas) could not produce them for an audit. Purchase prices were manipulated so individual items could be reported as "office supplies" to the Federal bean counters.
Also, the employees continued to access the House server months after they were fired.
It is noteworthy the IG had evidence of this potentially criminal activity at least seven months before the "shared employees" were canned in February 2017. Congresswoman Debbie Wasserman Schultz (D-FL) kept Imran on the payroll until his July 2017 arrest.
Federal prosecutors spoke with 40 witnesses, but found no evidence that Mr. Awan had engaged in illegal conduct involving House computer systems, per the plea agreement.
As a conservative opinion writer noted earlier this year, none of the Awan IT aides were subjected to background checks for employment, using a loophole in hiring procedures that exempts potential hires from background checks if another member of Congress vouches for them.
Awan's attorney, a longtime Hillary crony, will seek a fine for his client instead of jail time, per Fox News.
*
Speaking of plea deals for the privileged, disgraced FBI agent Chase Bishop (below) has been re-armed and offered a sweet settlement of his second-degree assault charge by the prosecution. The details will not be released, because he is your employee.
Bishop's lawyer, David Goddard, said that the FBI strongly encourages its agents to carry their guns when they're not working. 
[our emphasis]
(This is why we need the Federal Government to control our gun use, while packing themselves without any accountability. Federal agents are beyond reproach.)
Also shielded from the public are Bishop's toxicology results from the night his butter fingers put a round in the leg of Tom Reddington at a (presumably) drunken "dance-off" in a Denver bar last month. Bishop ran away, but was eventually picked up by police.
Prosecutors told Denver Post the blood alcohol level "[does] not support further charges" for Bishop.
He is due back in court on…also August 21.
*
And George Clooney was out of sight to the high-rolling driver who collided with the Hollywood has-been in Italy last week.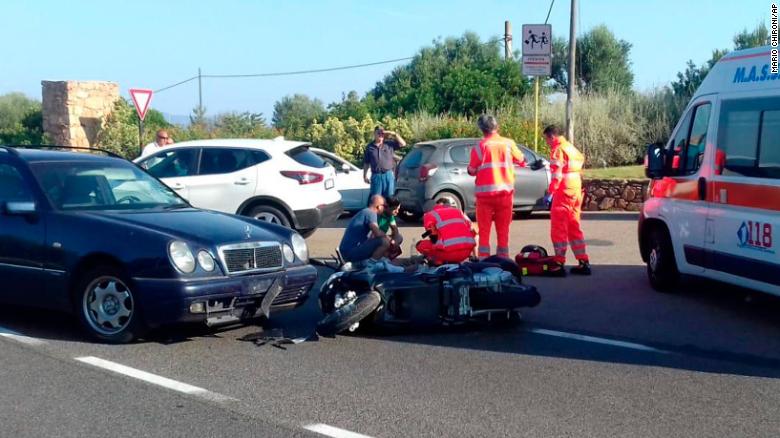 Video of Clooney going up in the air was obtained by Italian newspaper Corriere Della Sera.
While later headlines billed the Batman and Robin star's transpo means as a "motorcycle," the pictures above from CNN and OK Magazine indicate the manly mishap was indeed sustained on a scooter.
It is unclear if Clooney wore a helmet.
CNN reports he received a negative scan at Giovanni Paolo II hospital. The overrated actor also told CNN he hit 65 mph before tagging the Mercedes that cut in front of him.
The video shows the scooter going maybe 35 mph.
Related:
According to The Federalist and New York Post, a lawsuit originally filed with the FEC last year by pro-Trump organization Committee to Defend the President alleges Hillary bagged hundreds of thousands of dollars in campaign contributions from individual wealthy donors by funneling to state Democratic parties, which can make unlimited contributions to the DNC via the Hillary Victory Fund. This would appear to be a loophole around the federal limit of $2700 per person, per candidate, per election–in the amount of $84 million. This allegedly allowed Hillary to control the DNC in exchange for paying down their debt.
BONUS: In a very public spectacle, FBI agent Peter Strzok treated the public to a 10-hour array of smug expressions (cataloged by someone on Steemit) as the House Judiciary Committee questioned Strzok about his former investigative role under Robert Mueller into Trump's 2016 campaign. We have not watched the actual video.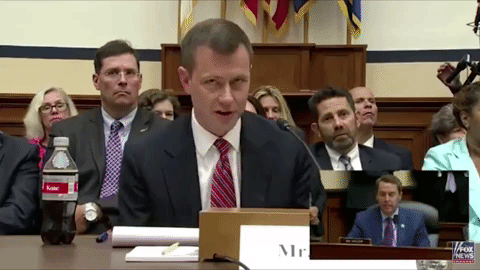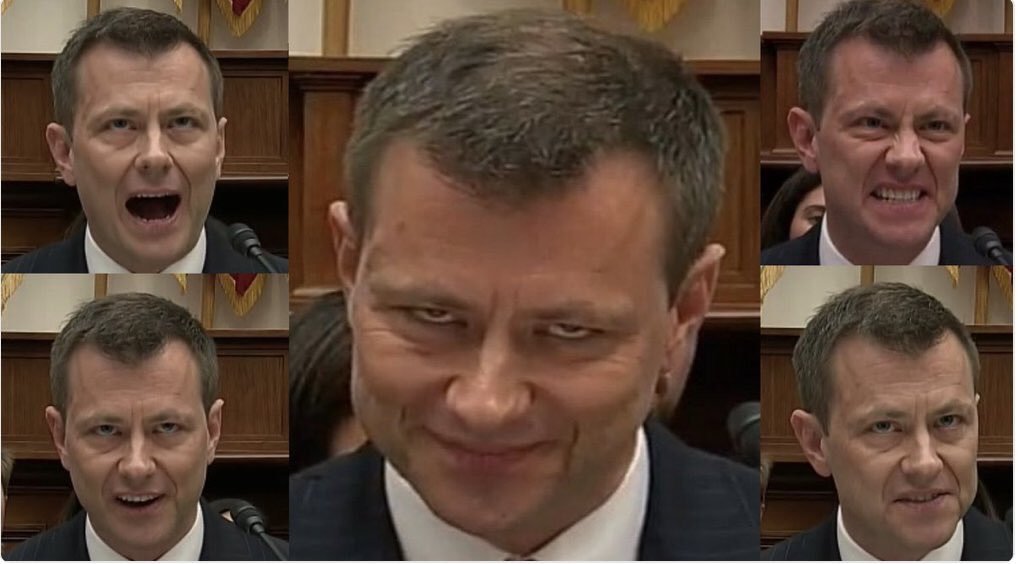 Apparently, Strzok, refused to answer a question out of loyalty to the FBI. GOP dinosaur and Chair of the committee, Virginia Congressman Bob Goodlatte (below, right), incorrectly claimed Strzok had been subpoenaed and threatened to hold him in contempt.
Republican Louie (his actual, adult name) Gohmert of Texas found an opening to mention Strzok's extramarital affair with fellow ex-Mueller investigator Lisa Page, to the consternation of Democrats, who proceeded to suggest Gohmert harbors a psychiatric illness.
Page, who received Strzok's "we'll stop [the election of Donald Trump]" text that was hidden from the public until the Justice Dept IG report dropped last month, participated in part one of a two-day, private interview by the HJC. She had refused to comply with a subpoena for public hearing Wednesday and was also threatened with contempt. According to The Hill, although Republicans were gratified with her responses to some questions friend-with-benefits Strzok refused to answer, they were off-put she showed up with an FBI attorney. (Page, unlike Strzok, has resigned from the FBI.)
Thanks to our sources:
https://www.cnn.com/2018/07/05/politics/scott-pruitt-epa-resigns/index.html
http://thehill.com/policy/energy-environment/392461-pruitt-frequently-asked-aides-to-help
http://thehill.com/policy/energy-environment/392570-pruitts-new-problem-with-the-gop-ethanol
http://time.com/4203690/iowa-caucuses-ted-cruz/
https://www.cnn.com/2018/07/02/politics/scott-pruitt-whistleblower-secret-calendar/index.html
http://thehill.com/policy/cybersecurity/394791-nsa-deletes-scores-of-call-records-over-technical-irregularities
https://www.vox.com/policy-and-politics/2018/6/21/17488454/scott-pruitt-tactical-pants-scandal
http://freebeacon.com/issues/epa-whistleblower-run-ins-law-enforcement-background-check-red-flags/
https://finance.yahoo.com/news/judge-jails-ex-trump-campaign-chair-manafort-ahead-155410775–politics.html
https://www.yahoo.com/news/delta-bans-pit-bulls-dogs-115851622.html
https://www.usatoday.com/story/travel/nation-now/2018/06/28/delta-attendant-kicks-passengers-off-plane-over-airplane-mode-dispute/741161002/
https://www.miamiherald.com/news/politics-government/article163818253.html
http://www.post-gazette.com/news/politics-nation/2018/07/04/Imran-Awan-an-ex-congressional-IT-worker-for-Democrats-pleads-guilty-to-bank-fraud/stories/201807040068
http://thehill.com/opinion/cybersecurity/384125-democratic-house-it-scandal-illustrates-the-hazards-of-reckless
http://www.foxnews.com/politics/2018/07/03/ex-dem-it-aide-imran-awan-pleads-guilty-to-bank-fraud-in-deal-with-prosecutors.html
https://www.cbsnews.com/news/judge-dancing-fbi-agent-accused-in-backflip-gunfire-incident-can-carry-weapon-again/
https://www.9news.com/article/news/crime/dancing-fbi-agent-offered-plea-deal-in-club-shooting/73-572427832
https://edition.cnn.com/2018/07/10/europe/george-clooney-scooter-accident-italy-intl/index.html
https://nypost.com/2018/06/09/democratic-parties-accused-of-funneling-84m-into-clinton-campaign/
http://thefederalist.com/2018/04/24/bombshell-fec-records-indicate-hillary-campaign-illegally-laundered-84-million/
https://steemit.com/informationwar/@gregorypatrick/my-favorite-c-span-clip-from-the-peter-strzok-hearing-did-you-use-that-smirk-when-you-lied-to-your-wife?sort=author_reputation
http://thehill.com/policy/national-security/396980-former-fbi-lawyer-lisa-page-gets-closed-door-grilling-from-house