The Treasury Department's IRS was all up in this fall semester, increasing criminalization of the Federal Government's subjects taxpayers after the recent Equifax humiliation.
The most recent "for your own protection" gambit involves some light surveillance of Americans' financial records.
The Bank Secrecy Act, as we have previously reported, provides the justification to unleash the IRS on unsuspecting Americans through civil asset forfeiture.
Banks (except our unconstitutional central bank, the Federal Reserve, which Washington maintains we have no right to audit as it systematically devalues our dollar and manipulates our interest rates) must report all daily transactions of $10,000 or more to the Federal Government. The IRS then targets citizens who deposit slightly less than $10,000 and confiscates everything they own on the presumption of guilt.
Summer Part 2: August Agony!!! Looking Back: May 10: IRS Takes From Little People; Squander Millions on Unused Email, Faulty Fraud Detection
According to BuzzFeed, the Financial Crimes Enforcement Network (FinCEN) retains all records of $10,000 or greater transactions for our Federal thugs to comb through as they please–but only their thugs.
Basically, IRS (and others–read on!) are surveilling their employees by sweeping up the "10,000 or greater" transactions for their own databases: private financial information supposedly safe and secure with FinCEN absent a court order.
Buzzfeed cited twelve or more FinCEN employees who have warned officials and Congress that US citizens' and residents' banking and financial data has been illegally searched and stored.
Even better: the NSA is accused of using the same Treasury surveillance to comb through the financial data of whoever they're currently watching. (Like many men in the media lately, NSA offered BuzzFeed a denial of the "categorical" variety. They never assaulted that woman or any man or woman. They have never seen the accuser in their life.)
OIA (Office of Intelligence and Analysis) is supposed to monitor suspicious financial activity abroad. But while the denial statement noted OIA and FinCEN are sharing info, it's FinCEN who are accusing OIA of skirting laws. OIA is also allegedly cold-calling banks to gather intelligence on certain account holders–which some branches, per BuzzFeed, are volunteering, under the impression it's  FinCEN-required compliance.
Paul Ahern, Treasury attorney, bullied FinCEN into thinking OIA had guidelines allowing them access to the intelligence. The guidelines were written a month later.
Who else also allegedly felt mandated to thumb through your bank account statements if you deposited more than the magic number 10,000? The CIA (who issued a prompt denial).
Two anonymous Treasury employees characterized the transgressions as "such an invasion of privacy" and "domestic spying." (Hopefully no Federal agency is watching their emails or phone logs, or they might not stay "anonymous"…)
*
The spying reportedly began under Obama, but the notorious Steven Mnuchin is now in charge of the extra layer of skin-crawling snooping  by the IRS for which you literally write checks each year to the IRS.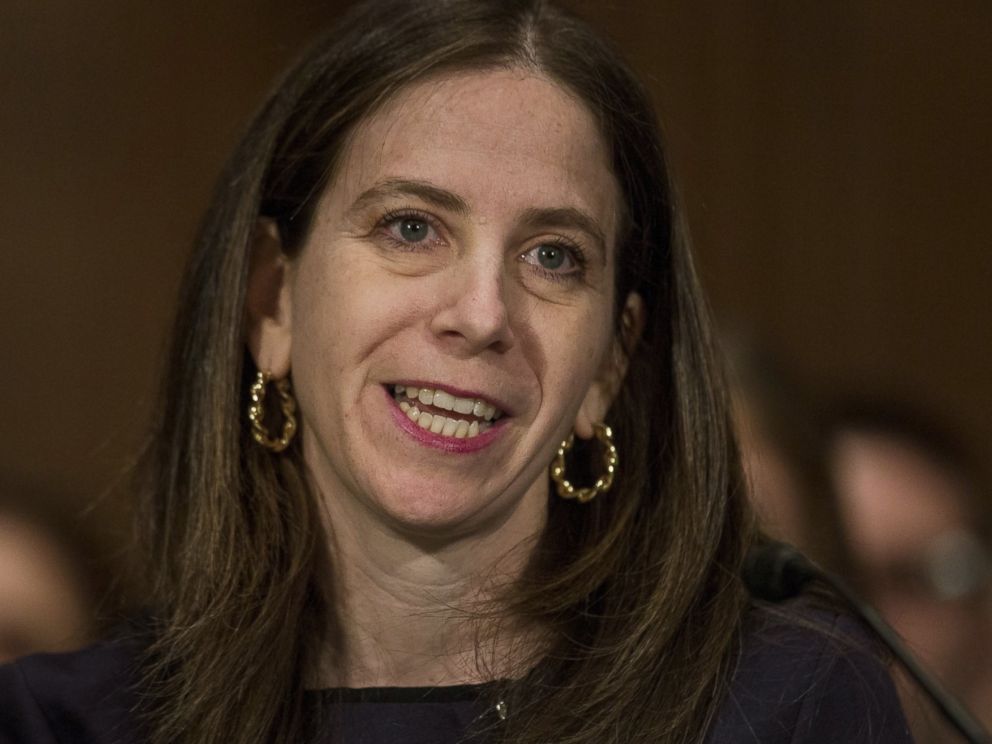 Under Secretary for Terrorism and Financial Intelligence Sigal Mandelker (above) is also apparently okay with this.
ABC confirmed the Treasury's IG is looking into the matter.
*
Most disturbingly,
Officials at FinCEN said that after they began raising alarms, OIA began shutting them off from classified networks. That lack of access, which BuzzFeed News reported last week, meant FinCEN officials were unable to fully respond to law enforcement agencies during several live terrorist attacks over the last year. It also prevented FinCEN from fully complying with the Senate investigation into possible collusion between Donald Trump's campaign and Russia.
[our emphasis]
Ain't nobody got time for catching terrorists, we have law-abiding Americans to spy on!!!
Thanks to our sources:
https://www.buzzfeed.com/jasonleopold/us-intelligence-unit-accused-of-illegally-spying-on?utm_term=.wkxjgVoEm&bftwnews#.hoE7m40A9
US Treasury denies domestic spying
http://abcnews.go.com/amp/Business/wireStory/treasurys-ig-probing-illegal-surveillance-allegations-50328990